OHIO — The killing of George Floyd and the protests that followed highlighted longstanding racial and social justice issues in the US that have yet to be solved. In an exclusive Spectrum News/IPSOS Poll, which surveyed 1,400 Ohioans in urban, suburban and rural areas around the state, residents revealed how they felt about race and race relations.
The death of George Floyd set off protests all around the world, shining a light on racial injustice, even in the State of Ohio. Harrison Poku-Yeboah helped organize protests in columbus.
"In Columbus, we see it, we feel it, we hear, read about it in the news," said Poku-Yeboah.
He's also been holding conversations surrounding race relations and racial injustice and believes people's world views are shaped by who they're surrounded by. Through protests and conversations, he's discovered a lot about himself and his white counterparts.
"I have a friend that I worked with and prior before me getting in the position. He'd never had a Black friend. He never had a Black man even come to his house to help him out, and just by the position that me and him have, now we understand each other because we are around the same area."
But for those who don't support Black lives, Poku-Yeboah said it makes him know the truth.
"And I think when you know the truth, you're able to move around. Because I feel like many years ago, we were walking around with people smiling and not really knowing how much they really felt about you."

Kevin Anthony met Poku-Yeboah before protests started. Poku-Yeboah says they've had differing views on politics and racial injustice, but they've learned from one another. Both believe conversations are an answer to the solving some of the problems.
"There needs to be more conversations, but I think it's a group thing. You know, I feel like everybody has to do their part. It's not just one person or two person. Like everybody has to take steps with their self and within their community," Anthony said.

When Poku-Yeboah learned about the results of the Exclusive Spectrum News/IPSOS poll, he wasn't surprised. The poll showed the 70% of Black Ohioans felt racism is a significant problem in Ohio compared to 54% of white Ohioans. Plus, it showed that 58% in the state overall felt police using excessive force against Black or African Americans is a widespread problem.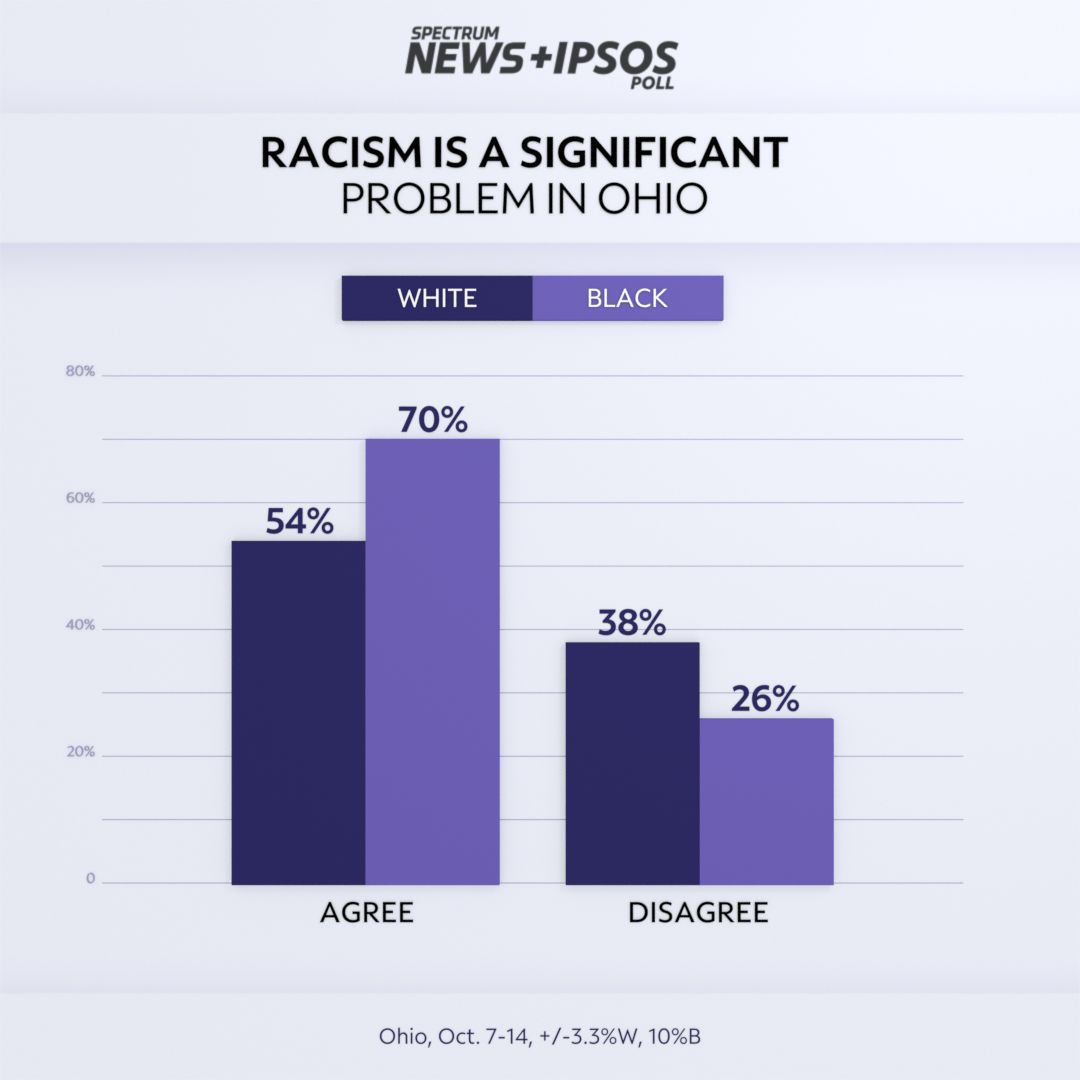 Looking closer, the poll also showed those making $50,000 or less saw these as big problems. In addition, it showed more residents in Columbus than any other major city in the state did, too. Anthony has a slightly different take on some of the issues highlighted.
"So like, you know, every day life. I don't see the issues as much. You know, sometimes they exist, of course, but not as much as the media pushes that agenda."

Senior Legal Analyst Kyle Strickland with the Kirwan Institute for the Study of Race and Ethnicity said the issues raised within the poll point to Columbus being a place where there's a big racial and economic divide.
"There have been movements here in Columbus. There's a movement at the Statehouse to really have these conversations in Columbus. There have been many high profile incidences of police violence, and even excessive use of force among the Columbus Police Department."

Overwhelmingly, Black Ohioans disagreed with the idea that they receive equal treatment compared to white Americans in the U.S. White Ohioans seem to be split on this matter. Then, nearly half of white Ohioans support the Black Lives Matter Movement and 43% don't. The biggest supporters are 18 to 34 year olds, especially those in Columbus. But in Cincinnati, not so much on this issue or the other issues.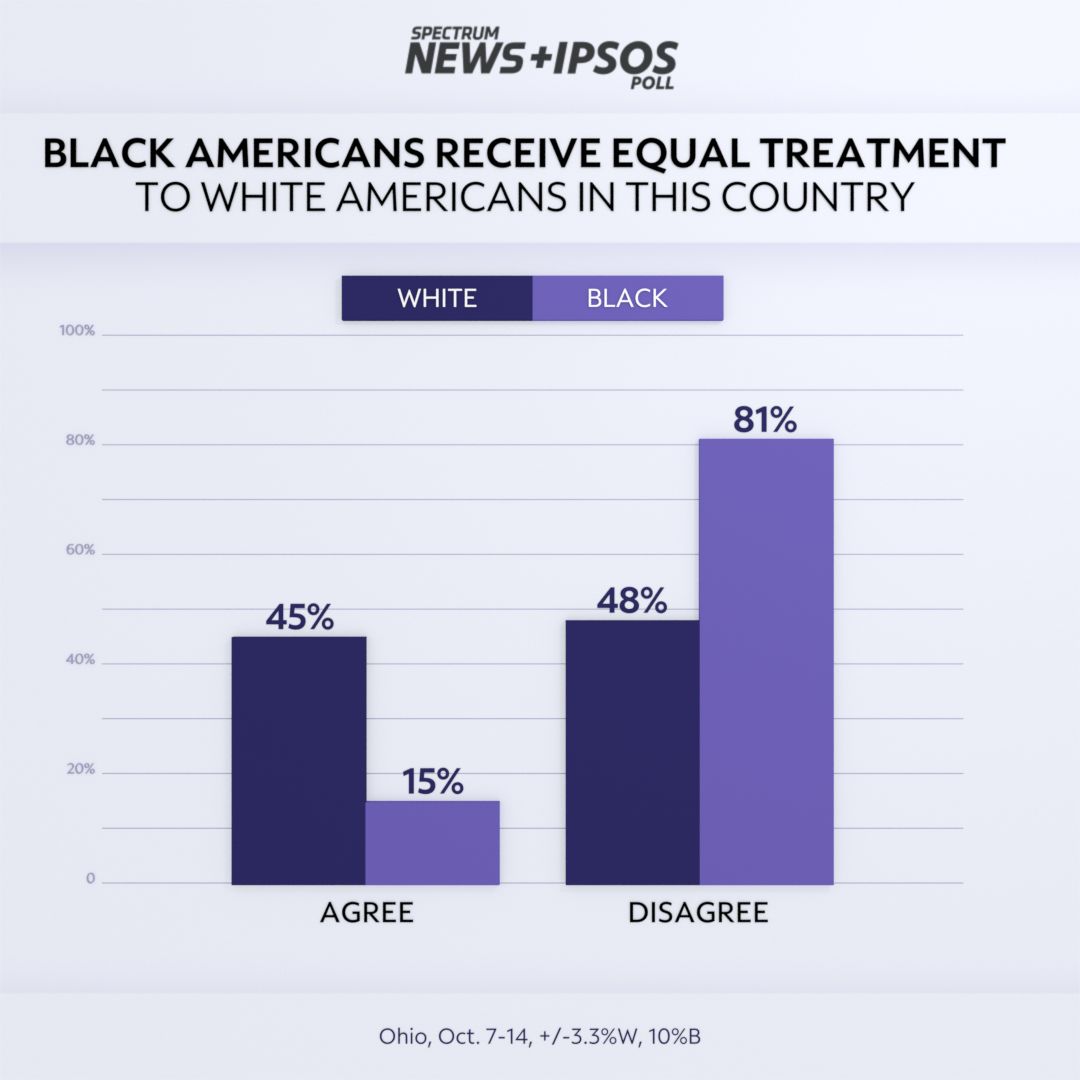 Strickland said Cincinnati's seen its fair share of racial tension and social unrest, but "It's possible that they've, that folks in Cincinnati have experienced it, have talked about it a lot, and perhaps maybe think they've moved further along the process than maybe others have
For Poku-Yeboah, the Black Lives Matter Movement isn't about an organization, rather every injustice concerning Black people.
"We're not here to have every person that disagrees with Black Lives Matter or does not like my skin tone to love me. But we just want you to respect us, and we want people to be held accountable for the things that they do."
While Poku-Yeboah understands columbus and the rest of the country have a ways to go when it comes to reaching racial equity in communities, he hasn't given up hope.
"I do believe that that hope is coming, things are getting better—will get better."

For full poll results and analysis, click here.