DAYTON, Ohio — In a warehouse just off of I-75, a small business carved a niche for itself on Dayton's north side. For first-time visitors, it may seem strange walking through the unassuming back entrance, past the working assembly line, sorting through hundreds of thousands of books, but beyond its industrial surroundings, a reader's paradise awaits.
Hundreds of thousands of picture books, novels and DVDs line the shelves of Dayton's One Dollar Book Swap, all for an affordable, predictable price: $1. It's been a favorite stop for local readers since it opened six years ago, but in recent months, it's seen a growing number of book-lovers traveling far and wide to see what the bookstore has to offer.
Missy Nickels comes from a family of book lovers so she said reading has been a part of her life for as long as she can remember.
"I have too many favorites," she said.
Now as the manager of the One Dollar Book Swap, she spends her days sorting through more books than she could have ever imagined.
"I would say hundreds of thousands," she said. "They are sorted into genres but collectively a few hundred thousand."
Despite six years on the job, Nickels said it still warms her heart to see shoppers come by and take home piles of her best sellers.
"By far children's books," she said. "To buy a children's book for one dollar is unheard of."
For the first few years, Nickels said the store found its footing with local families.
"We have a lot of teachers who shop here, a lot of moms," she said.
This spring though, the store found itself at the center of a new market, when a TikTok from a local book lover turned the One Dollar Book Swap into a destination.
"I really didn't even know what TikTok was," Nickels said.
Within a few weeks though, Nickels said she started seeing visitors from across the country stop by, claiming they heard about the store through the app.
"So it was just kind of exciting to see it spread and see other people love what we do," she said.
Nickels said the shop opened in the hopes of making reading more accessible to everyone in the Dayton community. Nickels considers the north side a book desert. There are no other book stores on the same side of town and the closest options with comparable collections are out by the mall in Beavercreek.
"And those books can be so expensive," she said.
It seemed like an injustice to the family of book-lovers, especially considering Nickel's nephew was running a large online book retailer, Murfbooks. The company took in hundreds of thousands of used books for resale on platforms like Amazon.
Then in 2015, Greg Murphy, Sr., said the family wanted to find a use for all the books the platforms didn't seem to want.
"Otherwise, they would end up in a landfill somewhere," he said.
That's when the family started stocking the warehouse shelves with those titles and allowing anyone in the community to take their picks for a small price.
"We just said let's give it a shot and it turned into something pretty well-loved in this community," Murphy said.
Now the two businesses run in tandem, out of the same warehouse as complementary branches of the family book business.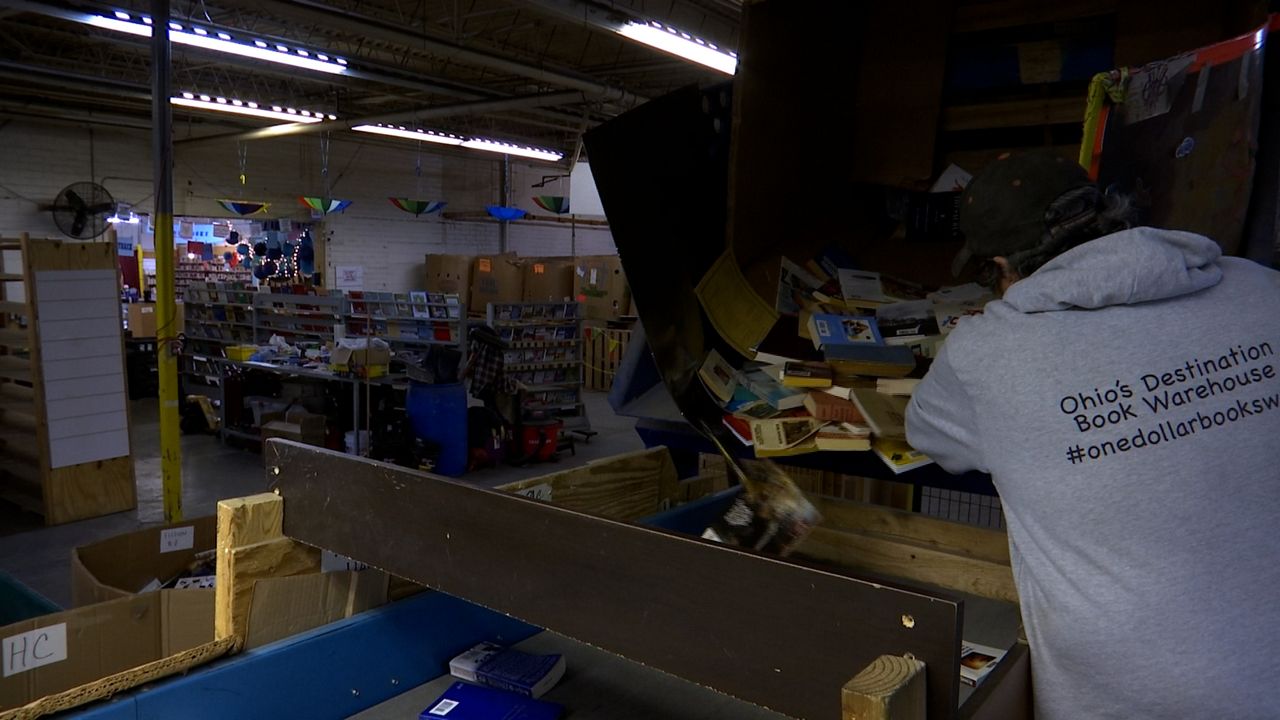 "You know with COVID and the way things have been recently, I don't know if we've made it through here without both businesses, but working together this really worked well," Murphy said.
The TikTok notoriety helped as well. Within a few months of the original video, Nickels said the store saw a customer from every state in the union drop in for $1 books, many of them posting about their experience on social media as well.
"To have a milestone like that," she said. "We were beyond excited for our little family business."
Now Nickels said the store is working to keep up the momentum, creating a TikTok presence of their own and working to spread the word about their efforts to make reading affordable and accessible to anyone willing to drop into their warehouse.
"We've always knew that that was special," she said. "We're so proud everybody knows we have something special."