Democratic congressional candidate Josh Riley holds a 5-percentage point advantage over Republican Marc Molinaro in the 19th Congressional District race, an exclusive Spectrum News/Siena College poll released Thursday morning found.
The poll found Riley drawing 46% of the vote compared to Molinaro's 41%. That is within a 5 percentage-point margin of error of a survey of 470 likely voters conducted in the district from Sept. 25 to Sept. 28.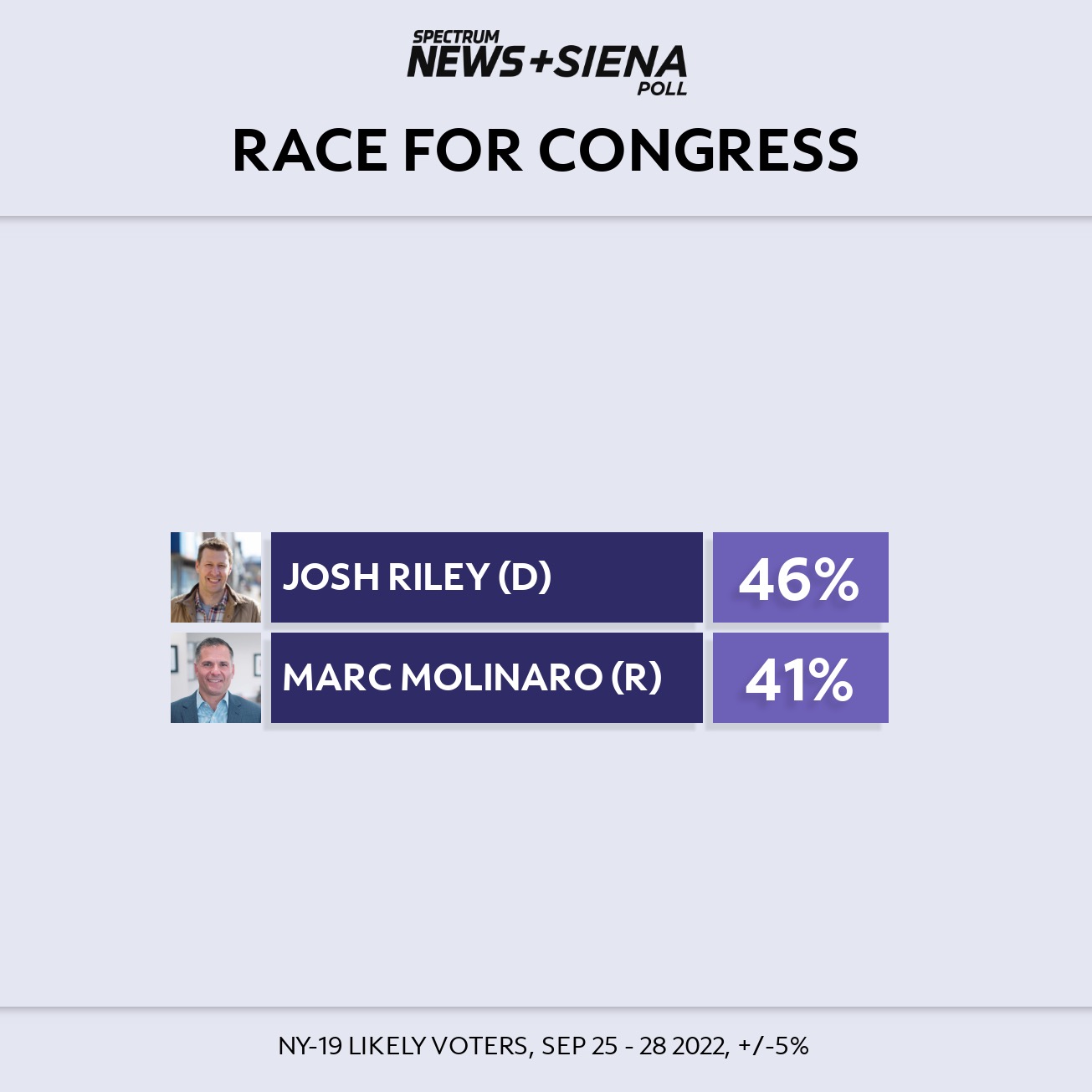 The congressional seat, which includes parts of the Hudson Valley, Southern Tier and Central New York regions, is among a handful of battleground House districts in New York that could determine control of the narowly divided chamber in this year's midterm elections.
Riley draws more support from independent voters in the district over Molinaro, 46% to 40%, as both candidates are keeping their respective bases intact in the race, the poll found. A majority of voters have no opinion of or do not know enough about Riley, a first-time candidate.
Molinaro, the Dutchess County executive, was the 2018 Republican candidate for governor and unsuccessfully ran in a special election earlier this summer to replace Lt. Gov. Antonio Delgado in Congress.
Despite Riley's lead, a majority of voters in the district hold an unfavorable view of President Joe Biden, 51%, compared to 44% who hold a favorable view. Former President Donald Trump's unfavorable rating is even higher at 57%.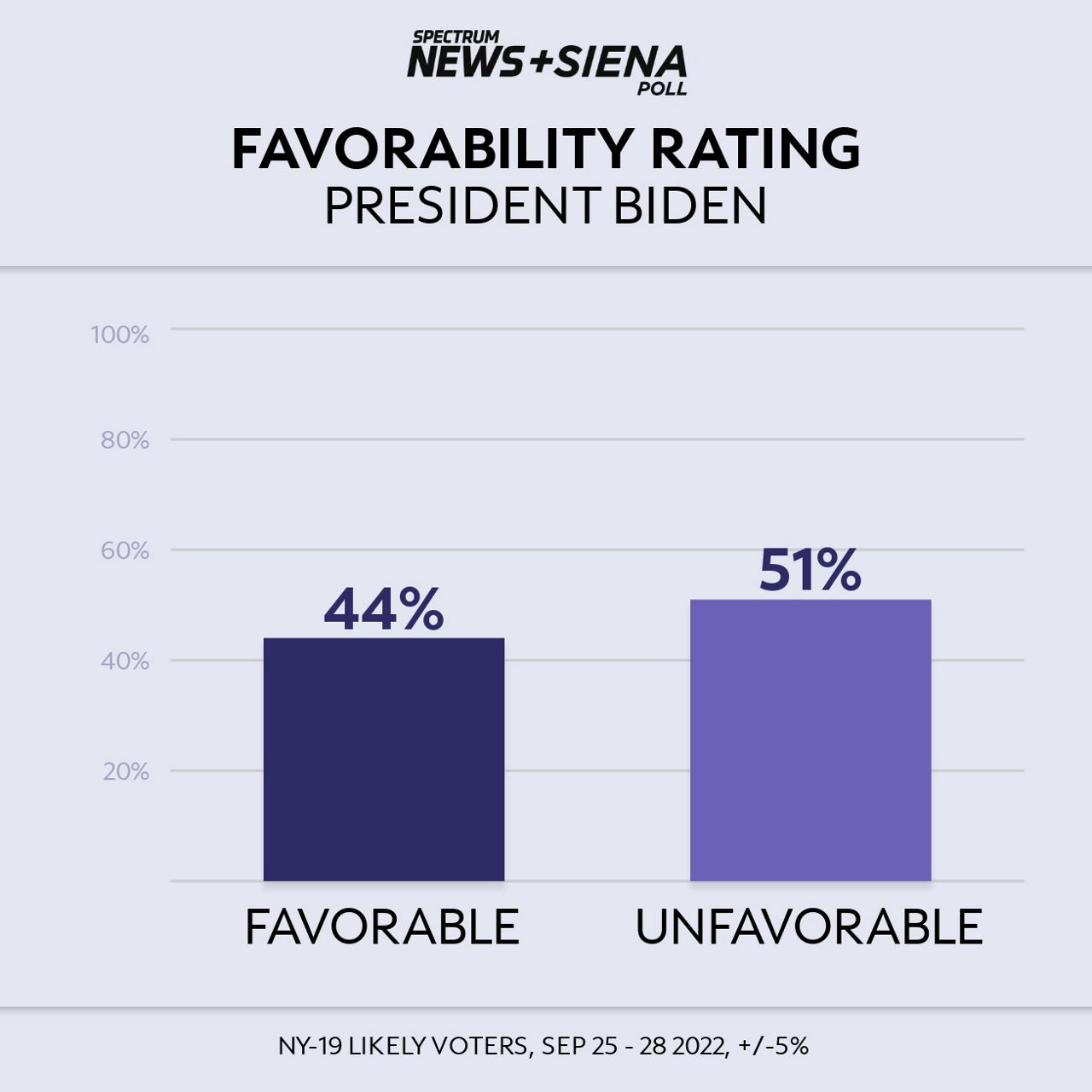 Gov. Kathy Hochul, a Democrat seeking a full term, is in a close race in the district against Republican candidate Lee Zeldin. The poll found 45% of voters in the district will back Hochul; 46% support Zeldin.
Most voters in the district, by a wide 59% to 28% margin, do not like the direction the country is heading in, including 51% of independents.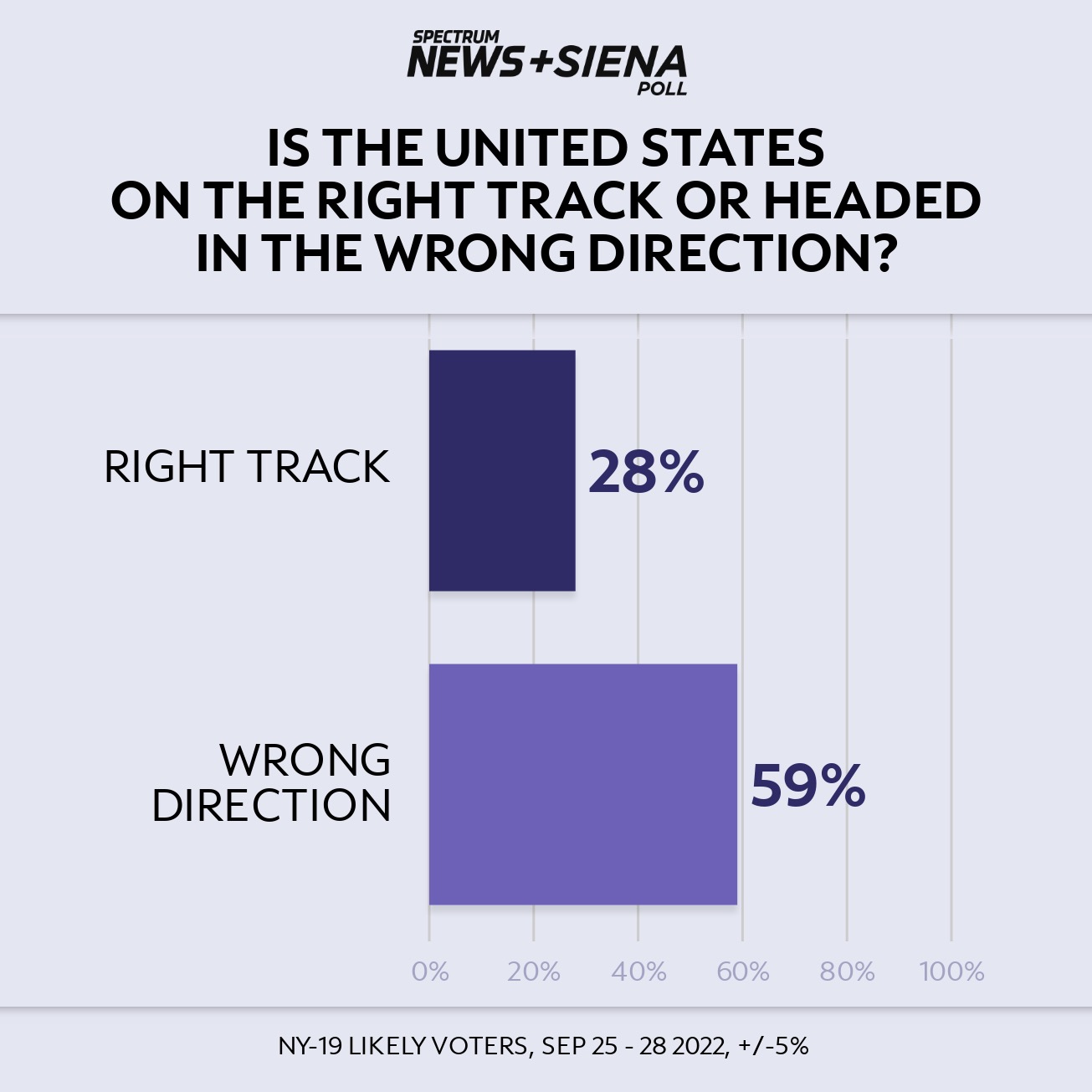 At the same time, 52% of voters picked cost of living and inflation concerns as the top issue in the race, followed by threats to democracy at 31% and abortion at 28%.
"We're encouraged by today's poll results, but taking nothing for granted," said Riley Campaign Manager Coby Eiss. "Over the next 33 days, our campaign will continue to work tirelessly to earn every vote across our 11 counties. Voters are ready for a change from professional politicians like Marc Molinaro, and Josh is running to bring new leadership that puts people over profits."
Molinaro's campaign, however, said it was focused on when voters will actually cast ballots.
"The only poll we are focused on is Election Day because these numbers will continue to evolve as voters learn that Washington insider Josh Riley stands with Joe Biden on inflation, rising interest rates, and cashless bail," said Molinaro campaign manager Will Dawson.