AUSTIN, Texas -- What do a 68-year-old and 19-year-old have in common? A lot more than you think. Carol Marak and Avery Gann have never actually met in person - in fact, they only met a few months ago. But now they talk almost daily.
"Right before the interview with you she called me, like 15 minutes before," chuckled Gann, a soon-to-be sophomore at the University of Texas at Austin. "We text sometimes. We send each other recipes and stuff."
Gann and Marak were among the first who connected through Big and Mini, an online platform connecting young adults (minis) with seniors (bigs).
The program is the brainchild of three Texas students who were getting a little restless in quarantine life.
"All of us personally had volunteered in nursing homes in the past, and we kind of realized that we were oftentimes feeling pretty isolated and missing those connections that we had with other people," said Aditi Merchant, co-founder of Big and Mini, and a biomedical engineering student at UT Austin. "We thought that seniors likely may have had it a lot worse."
As of the 2010 census, there were more than 2.6 million people over the age of 65 living in Texas. Roughly a quarter of those older Texans live alone - like Marak.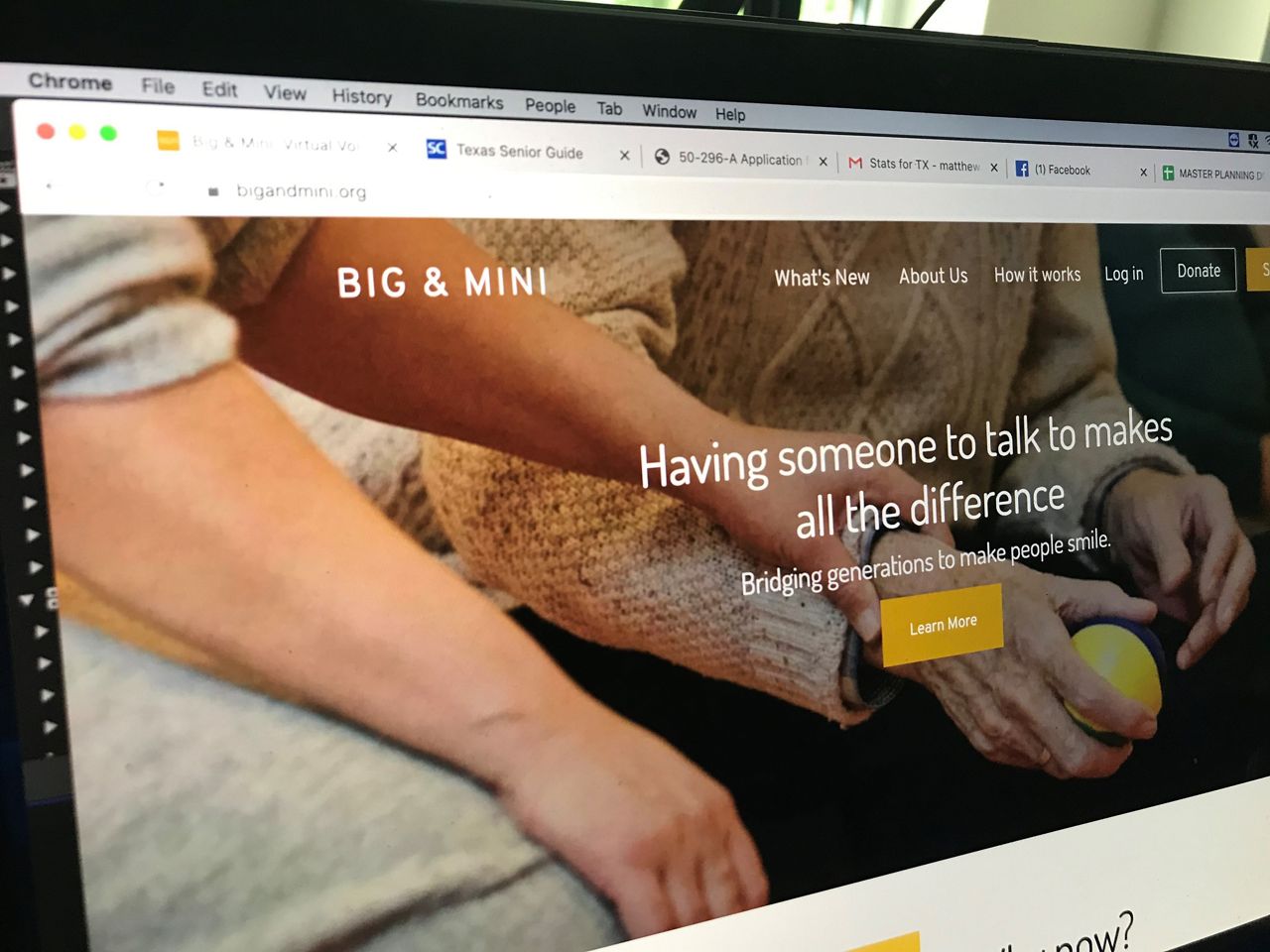 The website for the Big and Mini platform, which pairs younger adults with seniors in order to foster friendship. (Matthew Mershon/Spectrum News)
"The loneliness and isolation are our biggest issue, mostly because it puts us at higher risks of exacerbating chronic illnesses and depression," said Marak, who also happens to research issues on aging - especially those who are aging "solo."
It took just a week for Merchant and her partners, Allen and Anthony Zhou, to develop and launch the platform that aims to reduce isolation, as well as develop friendships and mentorships.
After signing up for Big and Mini, an algorithm matches bigs and minis based on their interests, but then those connections must pass through Merchant's quality control.
"Obviously since it is a software there does need to initially be a human component making sure that all the matches are good, that the interests actually align," said Merchant.
Marak and Gann have connected over their love of writing, but their conversations involve so much more.
"She tells me stories a lot that reflect things that I'm going through in my life," said Gann. "She's kind of like a mother figure in a way that she can give me wisdom that I don't have yet - because I'm, you know, young and don't know what I'm doing."
Oddly enough, the matched big and mini live just 40 minutes away from each other - Gann in McKinney and Marak in Dallas. Both friends look forward to the day when they can actually meet in person and give each other a hug.