AUSTIN, Texas -- After noticing their oldest daughter was struggling to keep up with her peers, an Austin family spent years going from specialist to specialist looking for answers.
Belle and Abby Andrews both diagnosed with Niemann-Pick disease type C
Undergoing treatment at Dell Children's Hospital
Presence of COVID-19 further threatens the girls' health
"There were many years where we just couldn't figure out exactly what was wrong with Belle," said Chris Andrews, Belle and Abby's father.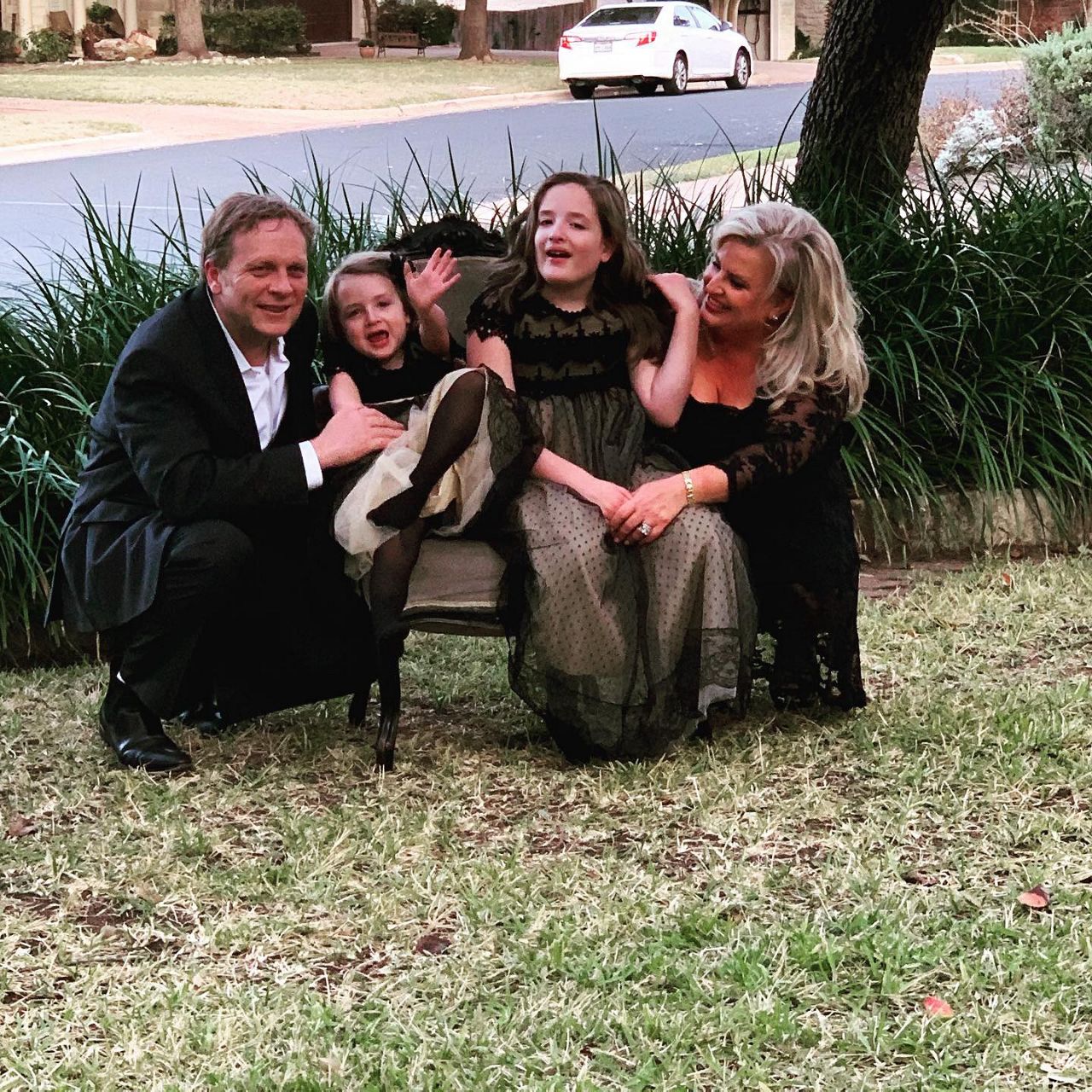 The Andrews family appears in this undated image. (Courtesy: the Andrews family)
"The symptoms I was noticing weren't adding up," said Pam Andrews, Belle and Abby's mother. "She seemed to have some gaze issue, her eyes couldn't track. So there were physical symptoms in addition to sort of spectrum-like peculiar behavior that just didn't add up. It didn't seem to fit into any bucket, and the doctors always said she's within the normal limits."
But Pam Andrews' instincts told her something was wrong.
"She wasn't deteriorating and losing the ability to talk, or losing the ability to walk at that time, [but] she was having trouble keeping up with her peers, and she was struggling," said Pam Andrews. "But she wasn't losing skills, so nobody was alarmed, but as a mom, I just would have her friends over for play dates and I felt like something was just not right.​"
For years, every medical exam and test came back normal, until Belle was 6 years old and her doctor received the results of a genetic test.
"I have very little memory of what was said in the meeting, but I do know that the doctor came in holding a piece of paper with the words 'Niemann-Pick type C' at the top and handed it to us with some information about the disease. I know that he told us that she would be dead within six to 10 years. And I know that he gave us a Make-A-Wish form, told us to call the Make-A-Wish Foundation and that, you know, we should do everything we can to enjoy our time with her."
Belle was diagnosed with Niemann-Pick disease type C, an extremely rare, progressive disorder that deteriorates the brain and body. It's often fatal by adulthood.
"I don't have the words to describe it other than it's like a bomb that just goes off in the room. And nothing's ever going to be the same," said Chris Andrews.
"Our hearts were on the floor. I don't even know how you process that. I'm screaming and crying and inconsolable. It was horrible," said Pam Andrews. "It's worse than you can imagine, and even worse than that. And then for him to look at us and say, 'By the way, we need to test your other daughter.'"

At the time the Andrews' second daughter, Abby, was 18 months old. She also tested positive for Neimann-Pick disease type C.
"It's just the most horrible thing that can happen to a parent," said Pam Andrews.
"I mean, we were looking at each other saying we're about to lose our entire family. And that, that was unbearable," said Chris Andrews.
But the Andrews knew they had to do everything they could for their kids.
"Chris and I knew we wanted to go headfirst into the fight. And I think we knew almost instinctually that that was the only way that we were going to survive, as parents, because we have no control over the fact that both of our daughters have this life-limiting, horrible disease. All we have control over is what we do about it," said Pam Andrews. "At the end of the day if something happens to my kids, I have to know that I've done everything I can.​"
The Andrews started a nonprofit called the Firefly Fund, which supports research and raises awareness for rare neurodegenerative genetic diseases that impact children and have no cure.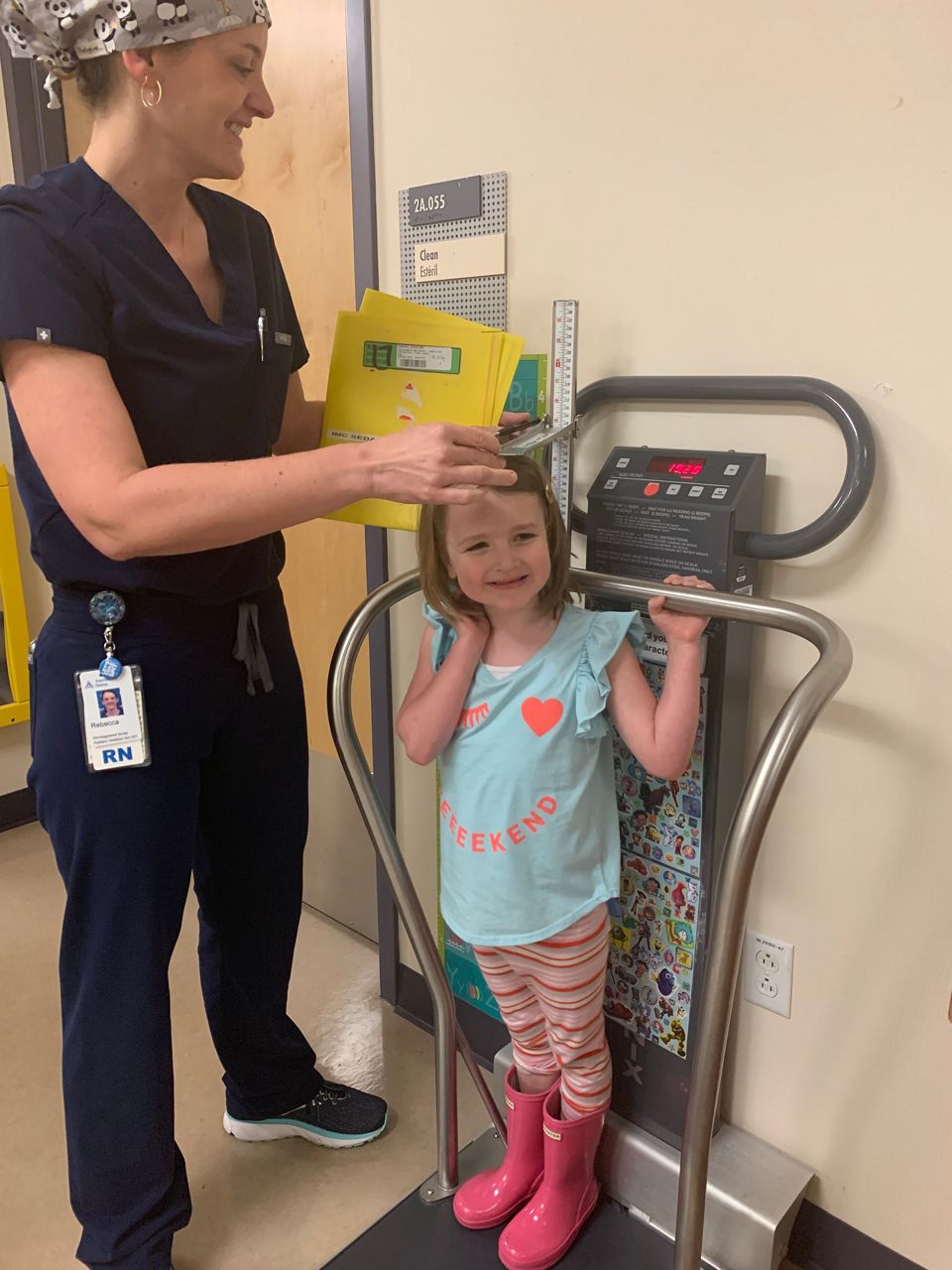 Abby Andrews receives treatment at Dell Children's Hospital. (Courtesy: the Andrews family)
"When you're diagnosed with a rare disease with no treatments available, you're just sitting in the dark, and you're completely alone," said Chris Andrews. "The idea that these little glimmers of hope, these little, you know, firefly light - when you get a whole bunch of them together, it can just completely light up."
Another glimmer of hope turned out to be a clinical trial for a drug they hope will slow the progression of the disease.
"This medicine has saved our life," said Pam Andrews.
Every two weeks, the girls go to Dell Children's Hospital in Austin for therapy.
"It's a lumbar puncture of a pretty powerful drug. It's not FDA approved yet. We hope it will be," said Pam Andrews.
Belle was enrolled in the clinical trial in the months after her diagnosis, and Abby has been getting the treatment every two weeks for the past four years.
"This is all really, really raw for us right now because Abby is going to be 6 in June, which is the age Belle was when we got the diagnosis. So, when Belle was this exact same age, our life looked very different with Belle," said Pam Andrews. "She was tripping and falling a lot, her speech was very difficult to understand, she'd broken her nose twice, she had a tremor, she had a very ataxic gait, and you couldn't track her eyes. We were already in vision therapy, but really didn't know why. So, life with with Abby is looking very different, and you can see in Abby, she has no disease progression, so to speak, she completely presents as neurotypical."
The Andrews say their daughters are proof of how critical early intervention is.
"They have statistics that'll tell you that it's like six to seven years for families to get diagnosed. That's seven years of damage," said Chris Andrews.
"There has to be a recognition of the disease, and recognition that early intervention is better. And I believe that Belle and Abby were here, put here on this earth, to demonstrate the difference in early intervention versus symptomatic intervention. I have to believe as their mom that their life has a purpose. And I believe that that's their purpose here in this life is to show the doctors and the decision-makers, the policymakers, that with this disease, the earlier you diagnose and the earlier you treat, the better quality of life the patients will have," Pam Andrews said. "And really we want that for every other child that has NPC, we want them diagnosed before visible signs or symptoms. And the only way to do that is through a newborn screening. I think that our vision for the Firefly Fund and and our hopes for the Firefly Fund is that we are able to create a world where more children have opportunities like Abby, to be diagnosed before visible signs or symptoms. And that when they are diagnosed early, through newborn screening, that they have therapies that are available to them. I think about a lot - had we known about Belle's diagnosis when she was 18 months old and what that could have meant for her life. We didn't know. But the mission of the Firefly Fund is to ensure that it never happens again. We know better, so we have to do better."
Belle and Abby Andrews appear in this undated photo. (Courtesy: the Andrews family)
The Andrews family is doing their best to live life normally, but that's complicated by the COVID-19 pandemic. Niemann-Pick type C compromises the respiratory system, so both girls are high risk.
"Every cell in the body is compromised. And Belle doesn't cough productively. It's a fine motor skill to cough productively," said Pam Andrews.
The Andrews say that for the majority of children diagnosed with Niemann-Pick type C, pneumonia ends up being their cause of death.
"We have all kinds of respiratory equipment that you would use if you're a cystic fibrosis patient, to help move secretions around, so, it's something that we managed way before COVID came along. The thought of being in the hospital with pneumonia has, way before COVID, has always been the scariest thing for either of the girls," said Pam Andrews.
The Andrews are socially isolating as much as possible for the girls' protection.
"We don't leave unless it's to go to the hospital for the girls' treatments, which are scary outings because there's a risk, but the medicine is important for them. So we go," said Pam Andrews.
But they're worried that the girls' treatments won't always be considered essential.
"If a hospital has become overburdened with COVID patients, is it safe to bring immunocompromised children in the hospital for treatments that are not FDA approved drugs?" said Pam Andrews. "It's a scary time for our community. There is no doubt, it is a scary time."
With so much uncertainty, the Andrews and the rest of the NPC community are taking it day by day.
"Everybody is in the mode of taking it through one treatment at a time, which can be nerve-racking for me, because I want to plan for the future, but we're all in such unchartered territories," said Pam Andrews.
But more than anything, they have a greater appreciation than ever for their health care professionals. ​
"After we left treatment last Friday, I just wanted to break down into tears," said Pam Andrews.
"We have an enormous amount of gratitude to for those nurses and doctors that did show up. That really brings home the dedication and the love that these people have for for treating others," said Chris Andrews.