AUSTIN, Texas -- Researchers will now review avian-related data some thousands of citizen scientists gathered over the holidays. At the turn of every year since 1900, bird enthusiasts around the world have participated in the National Audubon Society's Christmas Bird Count.
Researchers reviewing data collected during Christmas Bird Count
Data provides barometer of health of environment
Texas has vulnerable bird species in grasslands and eastern and western forests
Every count takes place in a designated 15-mile diameter circle, and volunteers tally up every feathered friend they see or hear all day within their region. Romey Swanson, director of conversation strategy for Audubon Texas, said birds are a barometer for the environment's health.
"There's so many ways to look at birds as an indicator for range health, for food supplies. Without birds, we don't have as easy an ecological indicator on a wide scale. They can be great indicators of where we're losing habitat, how the warming climate is affecting not just the landscape they live on, but the communities where people live that enjoy birds," Swanson, a certified wildlife biologist, said.
The count is one of the longest-running citizen science projects, and the work of these wildlife watchers allows better understanding of population trends for many species. It also guides conservationists, as they develop and refine strategies to protect birds in specific places.
"We're using this data to come up with some interventions that will help safeguard those species, that use those particular at-risk habitats to drive resources towards those habitats, to invest in strongholds and restoration," Swanson said.
Tracking and studying bird populations over time and space can also help determine environmental issues, which has implications for humans.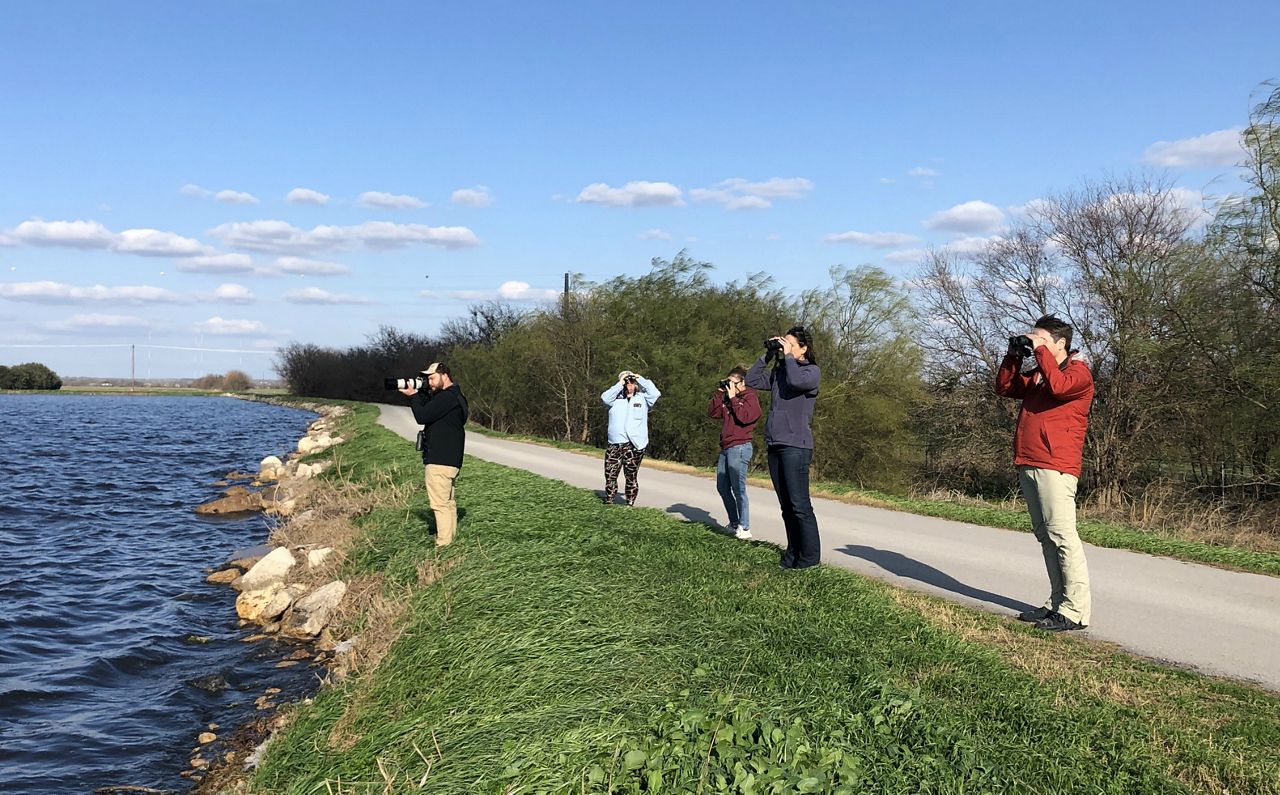 Citizen scientists collect avian data as part of the National Audubon Society's Christmas Bird County in Texas in this image from January 2020. (Reena Diamante/Spectrum News)
Drawing from the Christmas Bird Count data set and others, a recent report from the National Audubon Society says nearly two-thirds of the bird species in North America are at risk of extinction because of unlivable climate conditions. In the report climate scientists with the nonprofit say, however, keeping global temperatures down will help up to 76 percent of those birds.
Swanson said in Texas, the most vulnerable groups of species are those associated with the grasslands and the eastern and western forests.
"People should care about their ecosystems, because our ecosystems are what we feed us. Clean air, clean water, the food and fiber, the clothes that we wear, that all comes from the landscape and the ecology associated with those landscapes," Swanson said.