AUSTIN, Texas -- While Austin may be known as the live music capital of the world, it's also known for its plethora of street art.
Austin home to more than 80 murals
Some of them have become iconic and synonymous with the city
2.5-hour tour of murals available
Some are new, and others have been around for decades. According to Tour Austin, there are more than 80 murals scattered across the capital city of Texas. The tour group takes visitors on a two-and-a-half hour voyage crisscrossing the city to see some of the ones that have become fixtures in the Austin community.
Tour guide Markie Miner starts her tour on Austin's east side - home to several popular murals including the Your My Butter Half mural on East Martin Luther King Boulevard. The mural was commissioned by the United Way of Greater Austin in 2012.
The We Rise mural at 12th & Chicon was originally painted in 2014, studded with more than a dozen well-known faces specifically featuring African-American icons.
"The mural you're looking at isn't the original," Miner tells the group on her tour. "In 2017 actually, the mural was painted over by the shop owner, and that kind of distressed the community because this area has already been an African-American neighborhood."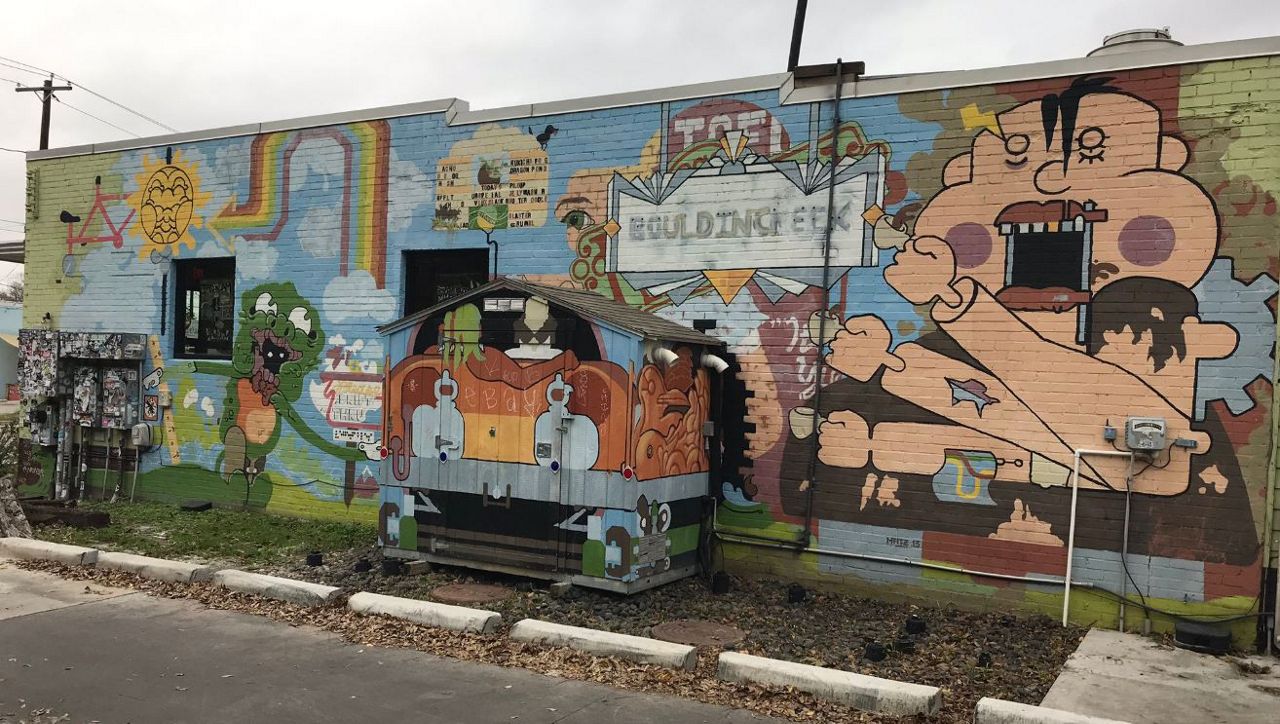 A mural appears in Austin, Texas, in this image from November 2019. (Matthew Mershon/Spectrum News)
Not all of the murals are intricate - some are pretty simple, but still have a story to tell.
Jeremiah the Innocent at 21st & Guadalupe, also known as the Hi How Are You mural, was created by musician Daniel Johnson to be featured on one of his albums.
"He wasn't necessarily the most popular artist, but actually Kurt Cobain wore his album cover to the VMA's in 1992 and really sparked some curiosity," recalled Miner.
Johnson would paint the unique looking frog the following year. Currently a Thai restaurant occupies the building Jeremiah is painted on, the eatery paying homage to Johnson's work - calling themselves Thai How Are You.
One of Austin's most visited - and Instagrammed murals - is also a very simple but deep work of art. Painted on the side of Jo's Coffee Shop on South Congress, the I Love You So Much mural has a backstory centered on the love between hotelier and coffee shop owner Liz Lambert and local musician Amy Cook and a need to make amends.
"They got in a fight and overnight Amy Cook decided she wanted to publicly address her love and so she tagged her girlfriend's coffee shop," said Miner.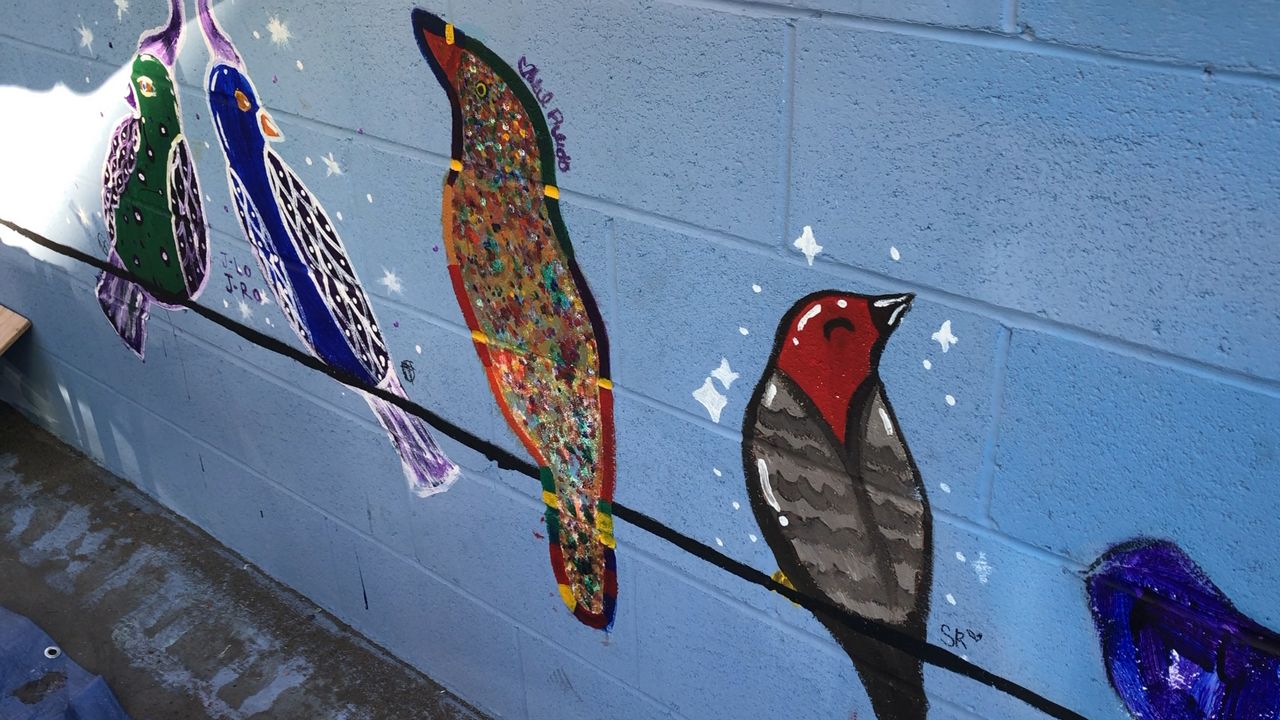 A mural appears in Austin, Texas, in this image from November 2019. (Matthew Mershon/Spectrum News)
South Austin is also home to another one of the city's most iconic works, the Greetings from Austin mural.
"I had no idea in 1997 that there would be tour busses pulling up all day now," said Todd Sanders, owner of Roadhouse Relics, the building the mural is painted on.
Sanders, a world renowned vintage neon sign artist, bought his studio at South 1st and Annie Street back in 1997, after the building was put on the market due to falling into disrepair. His then neighbors, mural artists Rory Skagen and Bill Brakhage, had asked Sanders if he wouldn't mind if they painted a mural on his building. Sanders willingly obliged.
"Most of it we painted in one whole day, just working really hard," said Sanders.
A sketch of the mural was super imposed on the wall and traced, a replica of a real postcard designed back in the 1940s. That postcard is part of the story Sanders tells people obsessed with grammar who say the way capital is spelled on the mural is spelled the wrong way.
"The postcard was sold at the state capitol - O-L, and Austin is the capital - A-L," said Sanders.
"So I've got these guys telling me that I've misspelled it, but we decided - we thought about changing it to capital, but we honored the artist that made that postcard back in the 1940s."
Despite its beauty, the Greetings from Austin mural has been tagged by graffiti artists multiple times, something that "baffles" Sanders. In 2013, the mural was repainted and a protective anti-graffiti layer was added to allow spray paint to simply be wiped away.
Sanders said it's an honor to be the steward of the work of art that draws flocks of people to check it out every week. There isn't a day that goes by that Sanders said he isn't asked by people outside his store if he wouldn't mind taking their picture - he said he's always more than happy to.
"It's just neat to have something that makes people happy and they seek it out - they come here just to see the mural."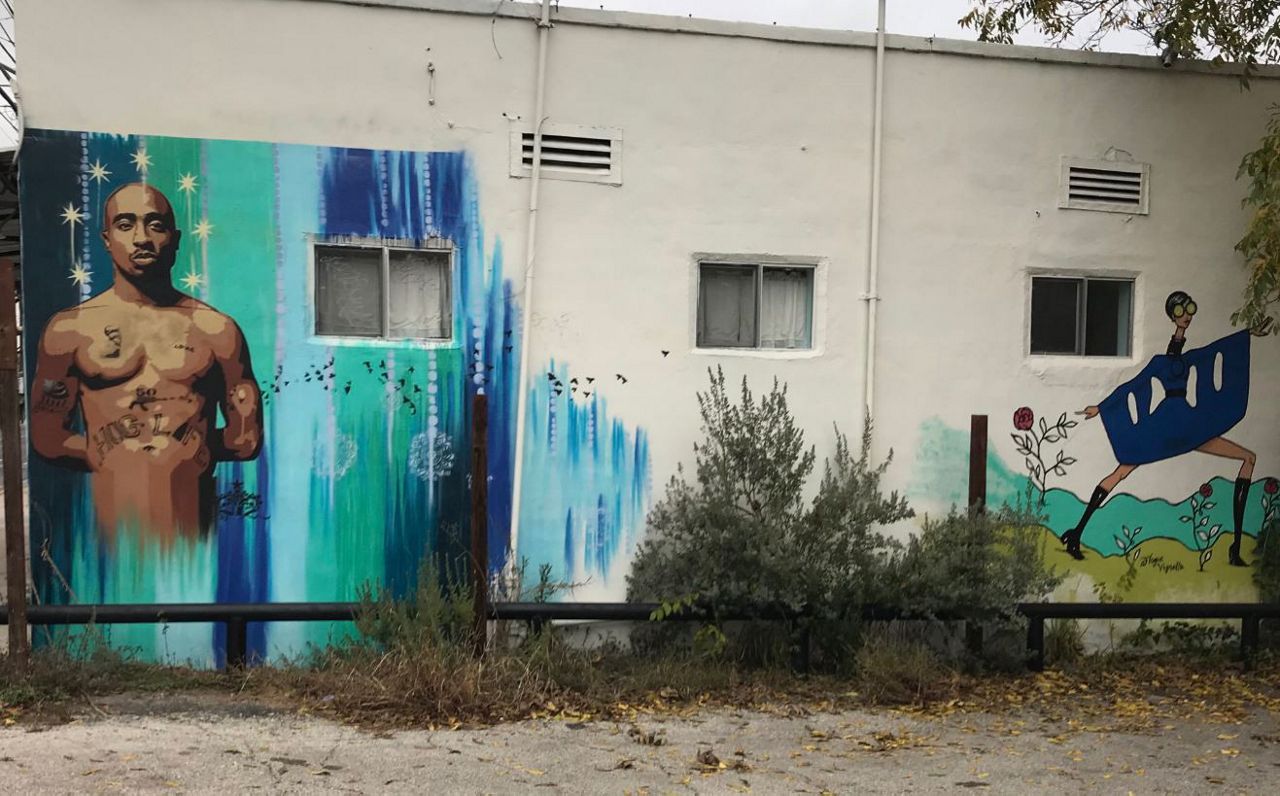 A mural appears in Austin, Texas, in this image from November 2019. (Matthew Mershon/Spectrum News)