AUSTIN, Texas — Public libraries are a place where people are welcome to go in and access services, but being able to bring books home is a different story.
Books are delivered 3 times a week
500 books in the collection
Book donations are welcome
In order to get a library card, people need to present a valid and acceptable form of identification, as well as proof of address, which can all be difficult for those experiencing homelessness.
Patrick Crowley of Austin strives to empower them by bringing books on a bicycle. It is all part of the mission of Street Books ATX.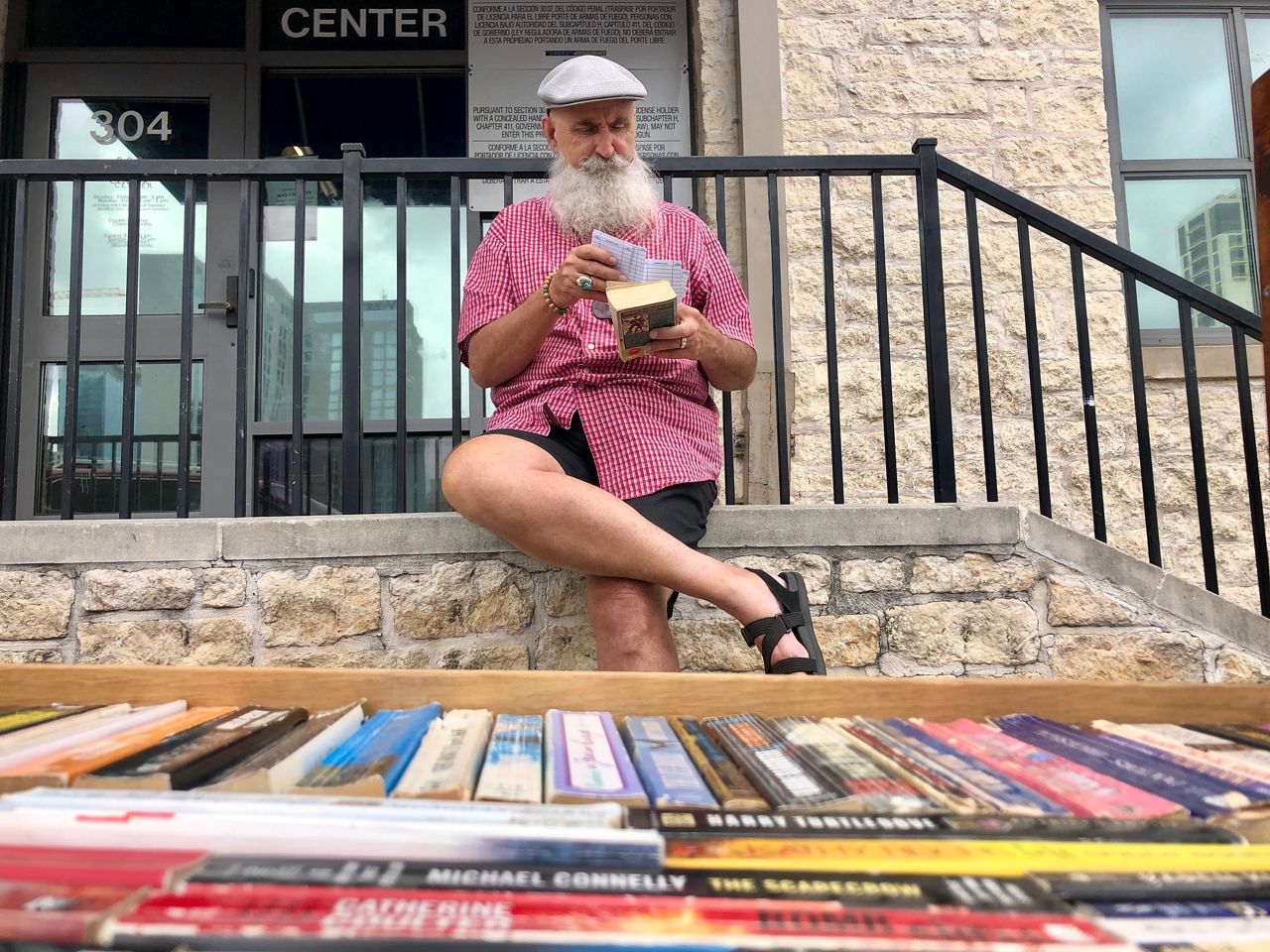 Crowley looking at book inserts over his mobile library collection. (Reena Diamante/Spectrum News)
After seeing the organizers of a Portland-based nonprofit set the wheels in motion for a mobile library, he built a custom one for Austin two years ago. Crowley said he started reading at a young age and recognized its impact on his own life.
"We grew up in probably not the best of living conditions, and we experienced poverty ourselves. By reading, I could put myself in a place that was far outside of my day-to-day existence, and I learned a lot of things about people and the other parts of the world that I never thought I'd get to see," he said.
At least three days a week, Crowley rides the library bicycle from an East Austin storage unit to different places across the city to lend out literature to those without a fixed address.
"It's engaging those other parts of the brain that take us outside of what we're dealing with right in front of us, that allow us to expand our horizon," he said.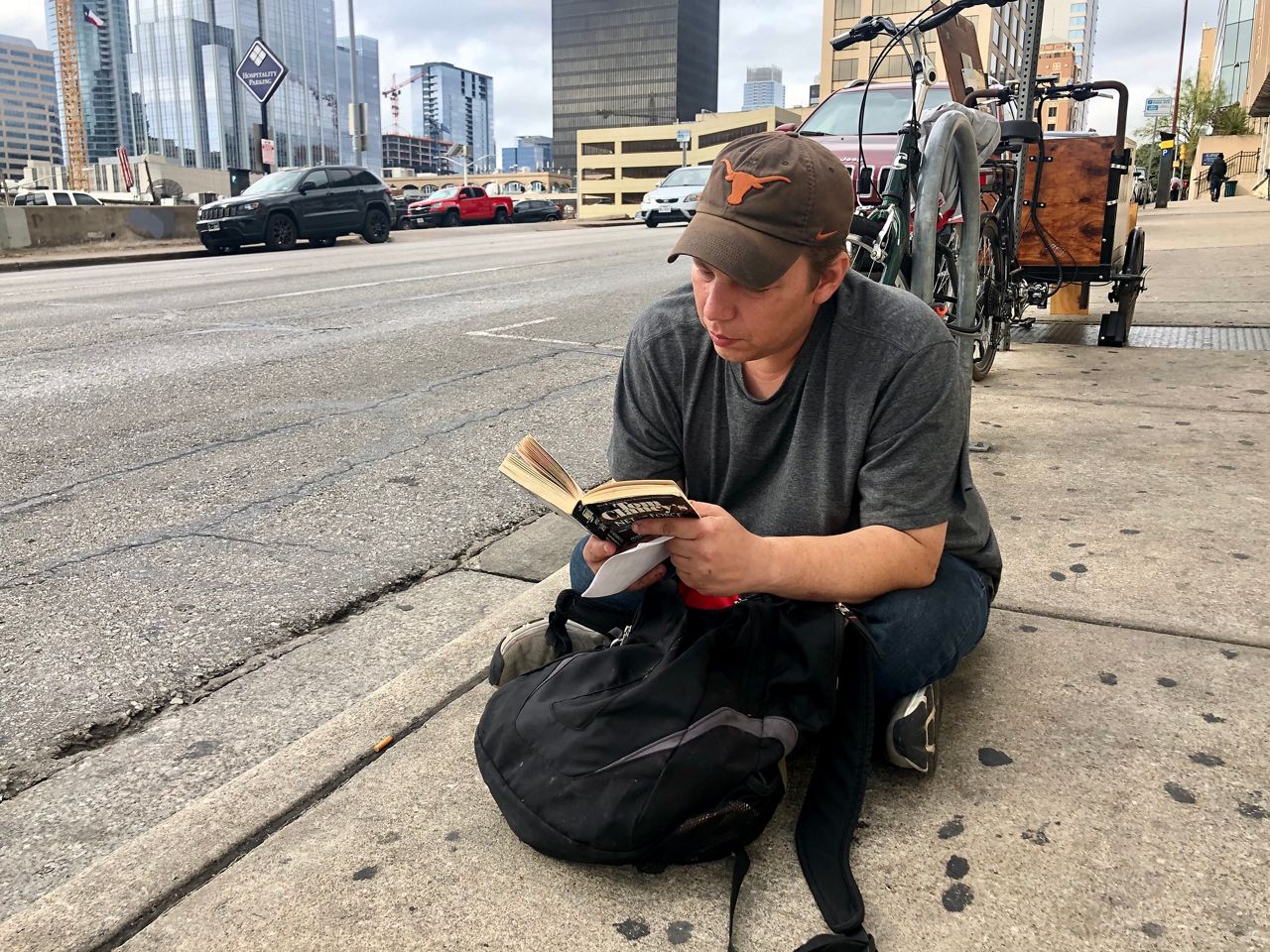 A man sitting on the sidewalk, reading a book he selected from the mobile library. (Reena Diamante/Spectrum News)
Crowley, who is recovering from addiction, said years ago, he too was living on the streets. In the past, he has volunteered to help others in recovery, as well.
"Their options are very limited. Anything that happens that can kind of change their day is something that makes a difference to them. I don't make much out of but, if it just makes somebody smile or they get something they weren't expecting out of the day, that's more than enough for me," Crowley said.
Every Thursday, in particular, Crowley posts up for about three hours in front of the Trinity Center near Seventh and Trinity streets in downtown Austin. One of the people he lent a book to was 39-year-old Vandell Van Ryswyk. He said he has been living without shelter for at least six months, after being unable to keep up with rising rent in the growing city.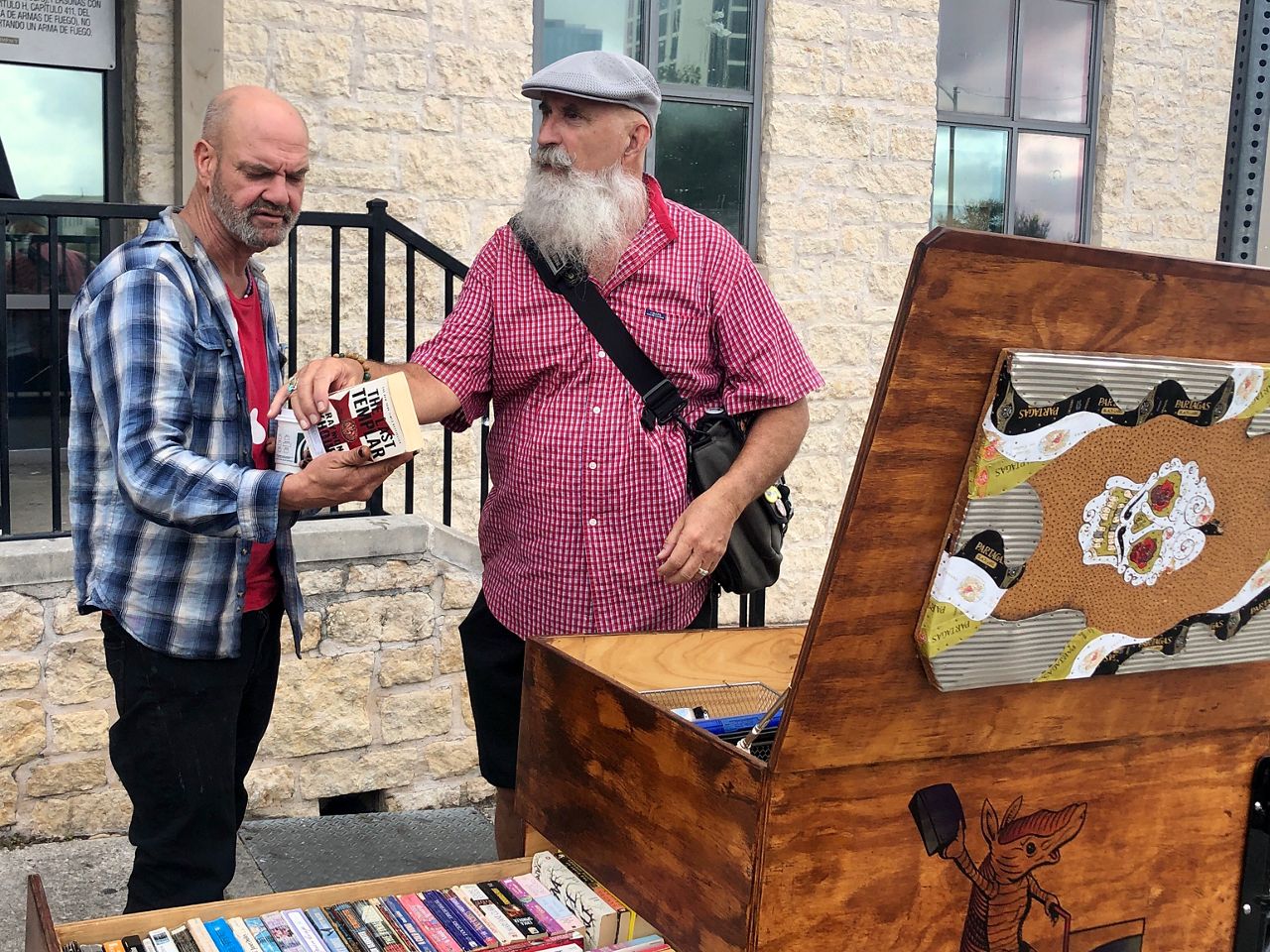 Crowley (right) showing a man a book from the mobile library. (Reena Diamante/Spectrum News)
"I spend most of my day trying to better my situation, get a social security card, license, all that stuff. But, after 5 o'clock all those offices are closed, so that leaves you with nothing but free time. That can drive you a little crazy, so I'm super glad to have something to read," Van Ryswyk said.
Street Books ATX currently has about 500 books in circulation, and Crowley always welcomes donations. Down the road, he hopes to find a storage space and office closer to downtown. As part of the initiative aimed at creating a community of support, he will try to help patrons beyond just the books. Crowley said he is trying to find a sewing machine for one person.
"Rather than be concerned about the problem, if you feel that strongly about it, then you should just do something," he said.
For more information and how you can donate visit: streetbooksatx.org. ​
RELATED COVERAGE
Austin City Council to Consider Purchasing Motel to House Homeless
Homeless Austinites Opting for Overpasses Rather Than State Campsite
State of Texas to Provide Space For Austin's Homeless to Camp
Homeless Men's Clothes Closet Celebrates 20 Years
Thrift Store Owner Provides Donated Items to Support Homeless in San Marcos