The 2021 Atlantic hurricane season was forecast to become an active one, and it lived up to that expectation.
Twenty-one named storms formed in the Atlantic. Seven of those were hurricanes, including four major hurricanes. The season barely got by without dipping into the new supplementary names list.
The season got going early, and the peak had one storm right after the other. The activity settled as quickly as it ramped up, as only one storm formed in the last two months of the season.
The Atlantic hurricane season got off to an early start before the 'official season' began on June 1.
Subtropical Storm Ana formed on May 22, becoming a tropical storm the morning of May 23 before dissipating that evening. It remained in the open Atlantic northeast of Bermuda the entire time.
Not far behind, Tropical Depression Two formed south of the Carolinas on June 13, turning into Tropical Storm Bill later that day. It quickly moved northeast away from land and became post-tropical on June 15.
The first impactful storm came in mid-June.
A disturbance meandered in the Gulf of Mexico for days before finally becoming Tropical Storm Claudette on June 19 as it came ashore in Louisiana. It produced heavy rain and tornadoes across the Southeast and became a tropical storm again as it neared the North Carolina coast. It dissipated on the evening of June 21.
Claudette was responsible for 14 deaths, including 10 people in one car crash blamed on wet roads.
Danny was another short-lived system. It began as a disturbance south of Bermuda, but didn't become Tropical Depression Four until it was near the coast of South Carolina the morning of June 28. That afternoon, it became Tropical Storm Danny. It made landfall near Hilton Head, S.C. the same evening and dissipated the following morning.
Danny's impacts were mainly related to heavy rain, dropping localized swaths of three inches or more. Some minor wind damage also occurred.
Elsa was a long-track tropical system. It began as a tropical wave over the eastern Atlantic, becoming a potential tropical cyclone on June 29. On July 1, the National Hurricane Center (NHC) named the system.
This was the earliest-forming fifth named storm on record in the Atlantic. Typically, the fifth named storm does not form until late August.
A day after the NHC named Elsa, it became the first hurricane of the season, bringing hurricane-force winds and heavy rain to parts of the Caribbean.
It then fluctuated between a tropical storm and hurricane as it moved toward the United States, but it eventually made landfall north of Tampa Bay, Fla., in Taylor County as a tropical storm. Elsa tracked northeast, impacting Florida, the Carolinas, the Mid-Atlantic and the Northeast. Elsa was designated post-tropical July 9.
Fred took its time to develop, as it lingered in the Atlantic for seven days before finally becoming a tropical storm on Aug. 11.
It tracked west and made its first landfall in the Dominican Republic. Land interaction with Hispaniola and Cuba ripped the storm apart. It wasn't until it moved into the Gulf when it was able to strengthen back into a tropical storm.
Fred made a second landfall in the panhandle of Florida on August 16 and brought flooding to the Southeast and Northeast over the next several days.
Western North Carolina saw the worst of it, with some cities receiving over 10 inches of rain in 48 hours, leading to extensive flooding. Downpours flooded rivers, roads and washed out bridges. Local emergency crews had to make several water rescues.
Grace first received its name on Aug. 14 when it became a tropical storm. Not long after, it weakened to a tropical depression and made landfall on Hispaniola on Aug. 16.
Grace continued west, strengthening into a Category 1 hurricane before its second landfall near Tulum, Mexico.
Once in the Bay of Campeche, Grace strengthened and became the first major hurricane of the season, reaching Category 3 status late on Aug. 20. With winds peaking at 125 mph, it made landfall near Tecolutla, Veracruz the following morning, where it rapidly weakened shortly after.
The area saw up to 18 inches of rain and experienced flooding.
Henri started as a disturbance north of Bermuda. It continued south, circling Bermuda and tracking west, then north.
Henri strengthened into a hurricane on Aug. 21 as it moved toward the Northeast. It weakened to a tropical storm right before landfall near Westerly, Rhode Island, on Aug. 22.
Significant flooding occurred across the Northeast, with some areas picking up between 7 to 12 inches of rain. Emergency officials conducted many water rescues when homes and vehicles became inundated with feet of water.
Hundreds of thousands of people were without power from downed trees and power lines. There were also several tornado reports in Massachusetts. Thankfully, they only produced minor damage.
The northeast would see back-to-back impacts from the tropics.
Ida started as a disturbance in the southwestern Caribbean and slowly moved west while organizing, becoming Tropical Depression Nine during the morning hours on Aug. 26. It took a northwest jog, becoming a tropical storm the same day.
The storm grew into a Category 1 hurricane on Aug. 27 before landfall in western Cuba. Hurricane Ida moved over the warm Gulf of Mexico waters, rapidly intensifying into a major Category 3 hurricane early on Aug. 29 in the northern Gulf. Ida grew into a strong Category 4 hurricane with winds of 150 mph just off the southeast coast of Louisiana.
Hurricane Ida made landfall at 11:55 a.m. Central Time on Sunday, Aug. 29 near Port Fourchon, La. Its top sustained winds were estimated at 150 mph. A second landfall occurred around 2 p.m. Central Time near Galliano, La.
A ship in port at Port Fourchon, La., measured a 172 mph wind gust.
Rainfall amounts of 5 to 10 inches were common on the northern Gulf Coast. Localized totals there were over a foot. Farther north and east, 3 to 5 inches of rain fell in parts of Kentucky and Ohio.
The heaviest rain with Ida fell across parts of the Northeast and New England, where rainfall amounts approached a foot in some areas. Some of the hardest-hit areas were Pennsylvania, New York and New Jersey. New York City's Central Park picked up 7.13 inches of rain in a 24 hours. This shattered the daily rainfall record for Sept. 1.
LaGuardia also shattered a rainfall record with 6.80 inches of rain falling. This is not only a record for Sept. 1, but the most rain ever recorded in a single day there.
The torrential rain caused flooding around the city, leading to stranded vehicles and water rescues.
Ida is responsible for over 90 deaths, with most of the deaths occurring from flash flooding in the Mid-Atlantic and Northeast.
Julian moved off the African coast and gained enough strength to become a tropical depression on Aug. 28.
It strengthened into a tropical storm Sunday morning on Aug. 29, but about 12 hours later, Julian quickly turned post-tropical.
Fortunately, Julian stayed over the open waters of the Atlantic during its entirety and didn't bring impacts to anyone.
Kate started as a tropical wave that moved off the coast of Africa and tracked west. The National Hurricane Center designated this system Tropical Depression Ten on Saturday, Aug. 28, south of the Cape Verde Islands.
After spending a few days meandering northeast of the Leeward Islands, Tropical Depression Ten gathered enough strength to become Tropical Storm Kate on Aug. 30.
After that, it moved over open water, quickly decreasing in intensity to a tropical depression and finally falling apart on Sept. 1.
Starting as a disturbance over Africa on Aug. 27, Larry moved west, entering the eastern Atlantic. It then quickly become a tropical depression on Aug. 31 and intensified to a tropical storm just a day later.
Just a few days later, Larry strengthened into a Category 3 hurricane over the open Atlantic.

Larry brought gusty winds to Bermuda along with rip currents and large swells to the East Coast of the U.S.
It made landfall in Newfoundland early on Saturday, Sept. 11, as a Category 1 hurricane, making Larry the first landfalling hurricane on the island in over a decade. Newfoundland experienced the worst conditions from Larry, with hurricane-force winds, heavy rain and storm surge.
It was designated post-tropical on Sept. 11 in the Labrador Sea.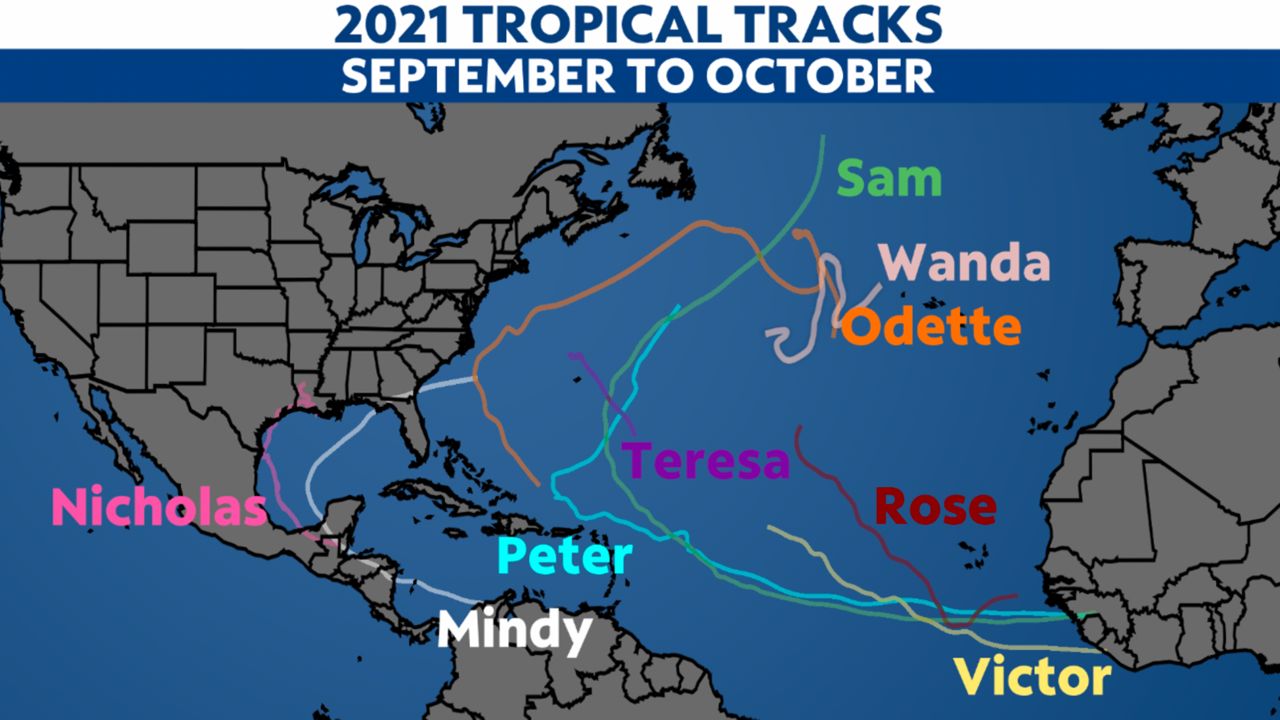 Mindy started as a disturbance in the southern Caribbean on Aug. 30. It moved northwest, entering the southwestern Gulf of Mexico, then quickly moved northeast over the warm Gulf of Mexico waters.
The system was designated a tropical depression just off the coast of the Florida Panhandle on Sept. 8, quickly intensifying into a tropical storm upon landfall.
It made landfall at St. Vincent Island, near Apalachicola, shortly after 8 p.m. Central Time Sept. 8, as a tropical storm with sustained winds of 45 mph. Mindy brought heavy rain, flooding and gusty winds to parts of northern Florida, Georgia, and South Carolina.
It weakened to a tropical depression over northern Florida on Sept. 9 before becoming post-tropical on Sept. 10 off the Southeast coast.
Starting as a tropical wave in the western Caribbean Sea on Sept. 9, this disturbance slowly moved over the Yucatán Peninsula and into the Gulf of Mexico.
The warm waters allowed the area to strengthen, leading to Nicholas forming into a tropical storm on Sept. 12. The next day, Nicholas became a Category 1 hurricane and then made landfall near Sargent, Texas, during the early morning of Sept. 14.
Numerous places in Texas picked up more than six inches of rain, and some areas got more than 10 inches, leading to flash flooding.
The system weakened quickly over land, but Nicholas slowed down immensely, allowing heaving rain to fall for days from Texas to Florida.
Nicholas finally became a post-tropical cyclone on Sept. 16.
Odette began a line of tropical systems that would not make landfall.
Starting as a disturbance near the Bahamas the week of Sept. 13, this disturbance slowly made a "C" shaped track moving just off the East Coast of the U.S.
The warm waters allowed the area to strengthen and Odette formed off the East Coast during the afternoon on Sept. 17.
Odette was a short-lived system becoming post-tropical south of Nova Scotia on Sept. 18.
Tropical Storm Odette was the 15th named system of the season.
Starting as a tropical wave that moved off the coast of Africa, this disturbance moved west and eventually developed into Tropical Storm Peter on Sept. 19.
It continued on a northwest track, barely grazing the Leeward Islands, the Virgin Islands and Puerto Rico. Peter brought some heavy rain to these areas.
Once it moved north of Hispaniola, high wind shear helped it weaken rapidly, and it fell apart late on Sept. 22.
Rose started as a tropical wave near the coast of Africa and eventually became a tropical storm on Sept. 19.

It showed some promise for further strengthening, but once it turned northwest, that chance disappeared. High wind shear helped rip the storm apart, and Rose became a post-tropical cyclone late on Sept. 22.
It stayed over open water during its entirety.
Like the previous two systems, Sam came off the coast of Africa as a tropical wave. It turned into a tropical storm on Sept. 23 and quickly strengthened into a hurricane early the next day.
On Sept. 25, it reached Category 3 status. Its peak intensity was top estimated winds of 155 mph on Sept. 26, just below Category 5 strength, and it remained a major hurricane for seven days. That included a second peak intensity of 150 mph on Oct. 1.
As Sam moved over cooler waters of the North Atlantic, its top winds gradually fell while the expanse of the wind grew larger. Sam lost its tropical characteristics between Canada and Iceland early Oct. 5.
Sam stayed over open water over its entire life, although it had indirect impacts on the Caribbean Islands, Bermuda and the U.S. East Coast. The hurricane created large swells, leading to rip currents that prompted numerous beach rescues.
Teresa was a short-lived storm remaining over the open Atlantic.
The storm formed near Bermuda during the afternoon on Sept. 24. The system was monitored for days and made a slow track north of Bermuda.
Teresa was downgraded into a subtropical depression just 24 hours after the storm was named, later becoming post-tropical on Sept. 25 north of Bermuda.
Victor was a short-lived storm in the eastern Atlantic.
The storm formed in the open Atlantic on Sept. 29, quickly tracking west-northwest.
Victor was downgraded into a tropical depression on Oct. 3, later becoming a remnant low on Oct. 4 in the open Atlantic.
Wanda became the final storm of the 2021 season. It started as a non-tropical disturbance off the east coast on October 23 and tracked north, eventually developing into a nor'easter.
Between October 25-27, the Northeast felt many impacts from the nor'easter.
Heavy rain caused flooding across the Northeast, and gusty winds caused power outages. Several hundred thousand people in Massachusetts lost power as a result of winds over 80 mph.
It wasn't until this storm moved way out to sea where it developed subtropical characteristics, becoming Subtropical Storm Wanda on October 30.
It meandered over the open ocean before becoming a tropical storm on November 1 and continued to stay over open water.
It became post-tropical on November 7.
While 2021 had fewer named storms than the record-setting 2020 season, the Atlantic season produced at least 20 named storms for only the second time since 2010.
It's not just the number of storms that meteorologists look at, but how much energy is produced throughout the entire season.
"Even though it appears the 2021 hurricane season was abnormally busy, don't forget many storms this season were very short-lived," according to Spectrum Bay News 9 meteorologist Nick Merianos. "All 21 names on the list were used this year but 12 of these storms were classified as 'shorties,' lasting roughly two days or less. Years ago, these storms may not have been detected or named, especially in the middle of the Atlantic."
"It's important to note this season generated a combined ACE (Accumulated Cyclone Energy) of 145.1, which is just over the seasonal average ACE value of 122.5," said Merianos. "In fact, just two hurricanes (Larry & Sam) account for more than half of this season's tropical activity when measured by ACE."
"The bottom line is when you look at the number of named storms this season, sure, it was busy. However, storm season 2021 doesn't come close to top 10 most active hurricane seasons when measured by ACE."