The fight over ride-hailing app vehicles is back.
The City Council is considering legislation that would cap the number of ride-hailing app vehicles on city streets.
City Councilman Stephen Levin is sponsoring legislation requiring a yearlong "pause" in issuing most new for-hire vehicle licenses so the city can study the industry. There would be an exception for wheelchair accessible vehicles.
What are ride-hailing app vehicles?
Ride-hailing app vehicles are vehicles from companies like Uber and Lyft that people can order using an app on their phone.
Why is the city considering a cap on the number of ride-hailing app vehicles?
There has been a steady increase in the number of ride-hailing app vehicles in the city. There are currently more than 100,000 of them on city streets. That's up from about 63,000 in 2015.
According to the New York City Taxi and Limousine Commission, those app-based vehicles made 17 million trips in February 2018, up from 6 million in February 2016. Meanwhile, medallion-owning taxi drivers made 8.5 million trips in February 2018, down from 11 million two years earlier.
Some officials have suggested that those increasing numbers of ride-hailing app vehicles on city streets have led to increased congestion on the streets. A recent Schaller Consulting study concluded that for every mile saved by taking a personal vehicle off the street, 2.8 miles are being driven by ride-share vehicles.
The city also wants to help the struggling taxi industry. Values of taxi medallions have plummeted as the number of ride-hailing app vehicles has risen on city streets; medallions that once went for as much as $1 million have been selling for less than $200,000. Cab drivers who took out loans to pay for the medallions have been saddled with debt, and some have even taken their own lives. In May, the city announced it will pump the brakes on selling taxi medallions for the foreseeable future.
Has the city tried to place a cap on ride-hailing app vehicles before?
Yes, in the earlier part of Mayor Bill de Blasio's first term. But Uber led a furious counter-attack to the proposal, and the city and ride-hailing app companies eventually reached a deal that did not include a cap. After the release of a study in January 2016, the city said it would no longer seek a cap.
What issues do the ride-hailing app companies have with the plan?
Uber has a message alerting users of the plan when they open up the app.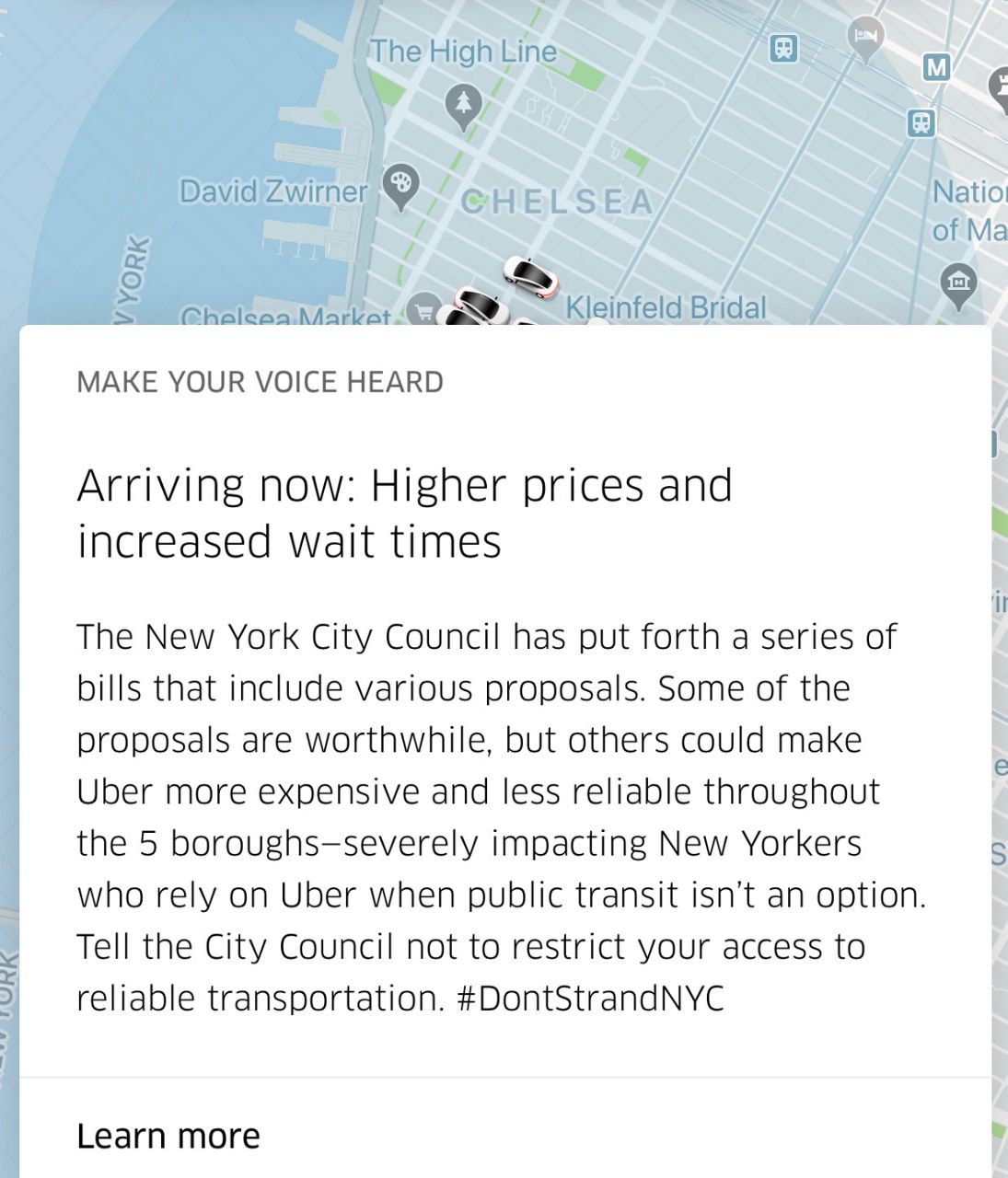 It has also launched an ad campaign on social media using the hashtag #DontStrandNYC.
"Millions rely on apps like Uber to get a ride 24/7 in all five boroughs," one Uber promo said. "If the City Council gets its way, all of this could disappear."
In a
blog post
, Uber says a proposed cap "will not reduce street congestion and is likely to result in increased wait times, higher prices, and significantly reduced reliability outside of Manhattan."
Lyft also addressed the proposed legislation in a post to its advocacy page, saying the new rules would lead to less reliable service, increased wait times and higher fares for passengers, as well as possible restrictions on where the company can operate in the city.
In response to the plan, a Lyft spokeswoman said, "This would take New Yorkers back to an era of standing on the corner and hoping to get a ride. Wait times would increase significantly and driver earnings and job opportunities would shrink."
Civil rights groups like the National Action Network are on the side of the ride-hailing apps. They say the cap would cut service in minority neighborhoods.
"I do believe that if you start to cap this industry, along with the fact that the cap is actually going to result in a reduction of the fleet size, you are going to see the areas being hit the hardest beingcommunities of color," said Joseph Okpaku of Lyft.
What is Mayor Bill de Blasio saying this time?
When asked about the possibility of a cap in an interview on Inside City Hall, de Blasio said, "That's the direction the Council's going in, and I think they're headed in the right direction."
He referenced a University of California-Berkeley study that he says shows that most of the for-hire vehicle drivers are at sub-minimum wage. (In its blog post, Uber says it agrees with the City Council "that all full-time drivers in New York City should earn a living wage," and Lyft says it supports "a requirement that all rideshare drivers earn a minimum living wage.")
The mayor also said the "constant flooding of the market" with more vehicles and drivers leads to "lots of empty vehicles circling around for no purpose."
Have other proposals been made?
As part of the state budget that passed at the end of March, a surcharge was issued on for-hire vehicles. Ride-hailing app vehicles like Uber and Lyft were hit with a $2.75 surcharge, taxis were hit with a $2.50 surcharge and shared rides like Via or UberPOOL were issued a 75-cent surcharge.
The governor called this a ground floor to a potential congestion pricing plan. A plan proposed in January by the Fix NYC commission would charge a fee for vehicles entering Manhattan south of 60th Street. (Uber and Lyft both say they support "comprehensive congestion pricing.")
Another proposed bill in the City Council would charge a yearly $2,000 tax on drivers who work with services like Uber and Lyft.
On Tuesday, the three major for-hire vehicle companies, including Lyft and Uber, offered to create a $100 million fund to help struggling taxi owners in exchange for the city killing the legislation. The City Council speaker's office said no.
When will a decision be made?
The Council is set to vote on Councilman Levin's proposal next week.