NEW YORK — Inside a grand room filled with sparkly shiny stones, the Subway Garnet is no longer a hidden gem.
"It's called the Subway Garnet. Unfortunately, it wasn't found during the subway excavation, because that happened another 10 or 15 years later. This was exhumed during the sewer excavation, and so the Sewer Garnet is not a very euphonious name, so it got re-labeled the Subway Garnet," curator George Harlow said while busy at work.
And yet the prized nine-pound specimen found in 1885 hasn't been on display for almost 40 years as it fell out of favor over the decades.
"So all of those flat surfaces, those are natural faces brought by nature," said Harlow. "That's really remarkable of any garnet anywhere."
For Harlow, who's worked at the museum for 40 years, installing the new Mignone Halls of Gems and Minerals is his Magnus Opus. It's a reflection not only of the American Museum of Natural history's remarkable trove of precious stones, but also his decades traveling around the world collecting them, including this feldspar crystal with gems formed on its surface: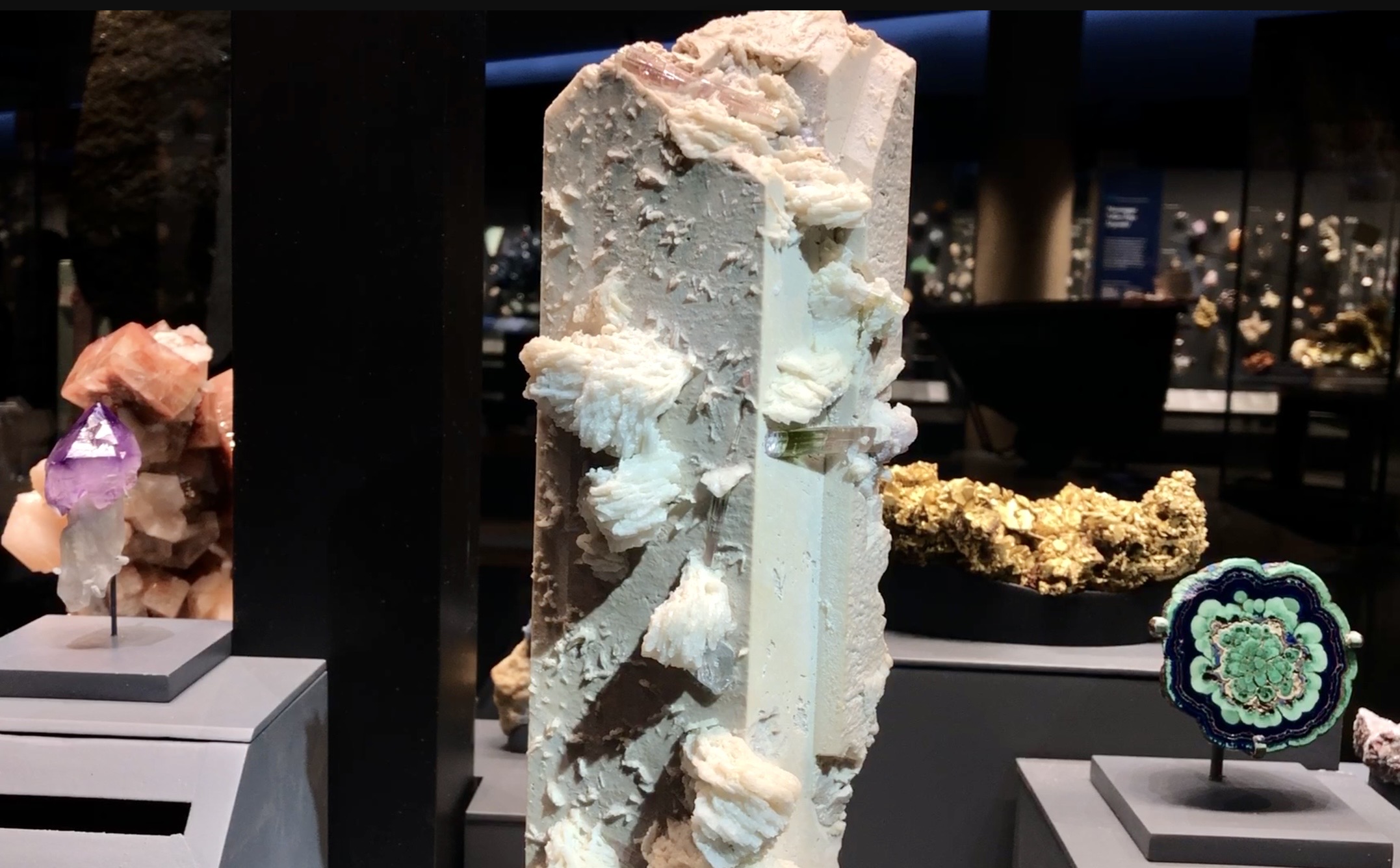 The Smithsonian wanted it, Harlow got it. "So this was an incredible object, and then to be able to sneak it out from under the nose of the Smithsonian, I couldn't beat that," he said.
There are thousands of gems on view from all over the world, but filming was limited because while they're still installing the exhibit security is very tight. And for good reason: back in 1964, jewel thieves pulled off what was then called the "Heist of the Century" from the old Hall of Gems. But of course a lot has changed since then, including very strict security.


Because New York is the most excavated city in America, many riches have been found here, especially in Manhattan. Some were created hundreds of millions of years ago, when hot magma seeped into the bedrock, cooled, and hardened. The Subway Garnet was found beneath what is now West 35th Street.
"One of the ideas is this is under our feet. There's minerals down there right under our feet, and I think that's kind of cool," said Harlow.


The reopening of the new hall has been pushed back from from February to the spring, but there is still a lot excitement for what's expected to be a blockbuster event.
------
Did you know you can now watch, read and stay informed with NY1 wherever and whenever you want? Get the new Spectrum News app here.