AUSTIN, Texas -- Five of the country's eleven fastest growing cities are in Texas.
Census Bureau researchers compiled stats for all U.S. cities with populations of 50,000 or more.
Georgetown topped the list of fastest-growing cities from July 2014 to July 2015.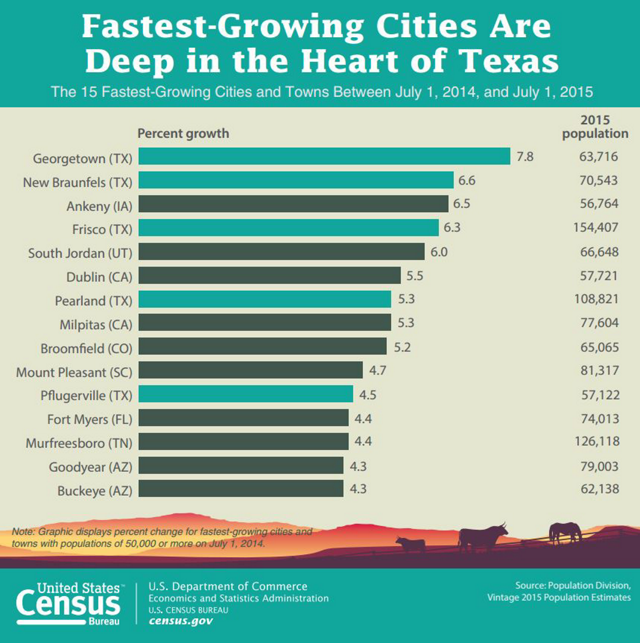 According to the Census Bureau, Georgetown is the fastest growing U.S. city with more than 50,000 people.
The Census reports nearly 5,000 people moved to Georgetown between July 2014 and July 2015.
That's a growth rate of nearly 8 percent.
Georgetown's mayor credits city planning for managing the growth while still keeping small town charm.
New Braunfels was second on the list and Pflugerville was 11th.
Fun Fact: In 2015, the Austin-Round Rock metro area crossed the 2 million population threshold for the first time.
All of Texas' largest cities ranked high.
More than 40,000 people moved to Houston and 30,000 moved to San Antonio.
Fort Worth and Dallas each added 20,000 people, while Austin added 19,000.
According to the Census, New York remained the nation's most populous city and gained 55,000 people during the year ending July 1, 2015, which is more than any other U.S. city.
New York City consists of five boroughs, each of which is a separate county equivalent of New York State. The five boroughs are Brooklyn, Queens, Manhattan, The Bronx and Staten Island. Queens (16,700), Brooklyn (16,000) and the Bronx (13,700) accounted for the bulk of New York's growth.
Denver joined the list of the 20 most populous cities in the United States, moving up two spots to 19th.
Census officials said Denver displaced Detroit, which fell from 18th to 21st.
In addition, Seattle moved up two spots to 18th. Denver and Seattle were both among the nation's 11 top numerically gaining cities.
Among the 15 fastest-growing cities, the only one outside the South or West was Ankeny, Iowa, a suburb of Des Moines. It grew by 6.5 percent, ranking third. Ankeny completed a special census on Dec. 10, 2014, that showed the population to be 54,598. The 2015 estimate puts the population at 56,764, according to the Census report.
---
Join the Discussion:
Follow TWC News Austin on Facebook & Twitter